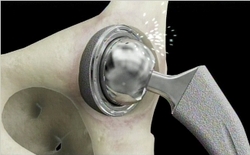 loosening because of lack of bony in-growth is a hallmark of DePuy ASR hip replacement failures
Sarasota, FL (PRWEB) June 15, 2010
A lawsuit has been filed against hip replacement manufacturer DePuy Orthopaedics, Inc over failure of a DePuy ASR metal-on-metal hip replacement. The lawsuit against DePuy was filed in Federal District Court in Ft. Myers, Florida last week. This is believed to be one of the first lawsuit filed in the United States over the failure of the DePuy ASR hip replacement. The patient in the suit is represented by an alliance of law firms pursuing claims on behalf of patients across the nation with failed DePuy ASR hip replacements.
The lawsuit alleges that the DePuy ASR hip replacement was defectively designed. It claims DePuy knew that their ASR hip replacements were failing at a higher than expected rate, yet it did not pass that information on to consumers or orthopaedic surgeons. As a result, diagnosis that the ASR hip replacement implanted in the patient has failed was needlessly delayed as her physicians were unaware of the prevelance of other failures. During the patient's surgery to replace the failed hip replacement, her orthopedic surgeon discovered that the cup portion of the ASR hip replacement was extremely loose. The ASR hip replacement is designed so that a patient's bone grows into the back of the cup to secure it. However, loosening because of a lack of bone in-growth into the cup is a hallmark of DePuy ASR hip replacement failures.
In March of this year, the New York Times published an article about the high early failure rate of DePuy's ASR hip replacement. Since that article was published many more reports of failures of ASR hip replacements have been received by both DePuy and the United States Food and Drug Administration. In its article, the New York Times quoted orthopedic experts critical of the design of the ASR hip replacement. Experts were also critical of DePuy's failure to stop sales of the device sooner.
The DePuy ASR Hip Replacement Alliance is a consortium of law firms that have represented patients across the nation in failed orthopedic product defect cases for many years. Member law firms of the Alliance have extensive experience in representing patients in litigation against both DePuy Orthopaedics and Johnson & Johnson's prior orthopedics subsidiary, Johnson & Johnson Orthopaedics. Clients of the Alliance will be jointly represented by the member law firms who will work together on behalf of each client. More information on the Alliance is available at http://www.mctplaw.com/depuy-asr/ or by calling 877-284-6600.
The case was filed in the United States Federal District Court for Middle District of Florida, Ft. Myers Division, case number 2:10-cv-369-FTM-36-SPC.
# # #