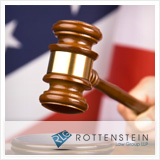 The evidence in this trial seems to only reinforce the allegedly defective nature of the ASR.
(PRWEB) March 29, 2013
A man whose wife sued Johnson & Johnson subsidiary DePuy Orthopaedics over its Depuy ASR metal-on-metal hip implant testified* this week in Chicago that his wife lived in constant pain following revision surgery required because the device was allegedly defective by design. The Rottenstein Law Group, which represents clients in DePuy ASR hip lawsuits, is closely monitoring the trial and notes that in a previous ASR trial in Los Angeles the jury awarded the plaintiff $8.34 million after finding the ASR's design defective. The firm maintains an informational website on ASR lawsuits at http://www.depuyasrhiplawsuit.com/.
"The jury during the first trial found the device to be defective," said Rochelle Rottenstein, principal of the Rottenstein Law Group. "The evidence in this trial seems to only reinforce the allegedly defective nature of the ASR."
Mike Strum told a Chicago court during the second such trial in the United States (In Re DePuy ASR Hip Litigation, No. 10-L-10506, Cook County Circuit Court) that his wife, Carol, recovered quickly after the initial implantation of the DePuy ASR in January 2008, but by 2009 her implant was clicking so loudly "it could be heard across the room" and that she was in intense pain, according to an article in Law 360.
Revision surgery followed in January 2011, the article said, but the pain was worse and Carol Strum, a nurse, took twice as long to recover from it. Mike Strum testified that Carol no longer volunteers with her children's sports teams because of the pain from the ASR.
The Rottenstein Law Group encourages hip implant recipients to download an informational brochure from its website to learn more about DePuy ASR Hip Lawsuit Information Center lawsuits.
The first trials in the federal multidistrict litigation (MDL-2197, U.S. District Court for the Northern District of Ohio) are set to begin later this year, according to the New York Times.** DePuy recalled the ASR in August 2010.
*law360.com/articles/428423/husband-recounts-constant-pain-at-depuy-hip-implant-trial
**nytimes.com/2013/03/09/business/johnson-johnson-must-pay-in-first-hip-implant-case.html?_r=1&
About THE ROTTENSTEIN LAW GROUP
The Rottenstein Law Group is a New York-based firm that represents clients nationwide in mass tort actions. The firm was founded by Rochelle Rottenstein, who has more than two decades of experience as a lawyer, to represent clients hurt by defective medical devices and medications. (Attorney advertising. Prior results do not guarantee a similar outcome.)
Contact:
The Rottenstein Law Group, LLP
Rochelle Rottenstein, Esq.
321 W. 44th Street
# 804
New York NY 10036
(212) 933-9500 (office phone)
(212) 933-9980 (facsimile)
rochelle (at) rotlaw (dot) com
http://www.rotlaw.com