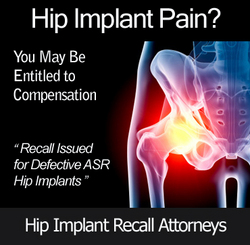 Hip Recall Lawsuits Allege DePuy Knew of High Rates of Metallic Poisoning
Beverly Hills, CA (PRWEB) October 18, 2010
DePuy Orthopaedics, Inc. a subsidiary of Johnson & Johnson announced a recall of all ASR Hip Implant Systems. The hip recall was issued after a report released by the National Joint Registry (NJR) found that hip replacement failure rates were up to 13% within the first five years of surgery. 1 in 8 DePuy hip implant recipients will likely have to undergo a debilitating second hip replacement surgery.
Metallic poisoning, called metallosis is among the most damaging side effects of a defective metal on metal hip implant. In May 2010, The London Times reported that 40,000 DePuy hip implants were under review in Great Britain after physicians linked metallic particles released from the device to vision loss, muscle damage, hip pain, hearing loss, and extensive soft tissue damage.
The heavy metals chromium and cobalt have been found to enter the circulatory system of a patient through the lower portion of the hip. It also acts as a gateway for toxic debris to enter the bloodstream.
Medical research reports published by the National Institute of Health described "aggressive clinical metal inflammatory failure" of the hip implant, necessitating removal of the faulty device and treatment for the metallic poisoning it caused.
Hip replacement recall victims are encouraged to immediately schedule a doctor's appointment. Comprehensive diagnostic tests should determine the extent of any hip implant failure and identify the presence of toxic metals in the bloodstream.
The hip recall lawyers at Nagelberg Bernard Law Group are filing lawsuits on behalf of hip replacement recall victims Nationwide. If you or a loved one has suffered because of a defective hip replacement device, contact our hip recall attorneys to determine if you have a valid hip recall claim.
Legal Experts Are Available 24/7 to Provide Free & Confidential Legal Advice
CALL TOLL FREE: (800) 232-7070
###