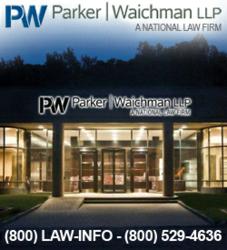 This verdict is a reassuring victory for thousands of individuals who have been injured by the DePuy ASR hip implant
(PRWEB) March 08, 2013
Parker Waichman LLP, a national law firm dedicated to protecting the rights of victims injured by defective medical devices, is weighing in on the verdict awarded in the first DePuy ASR trial. According to a Bloomberg report published on March 8, 2013 jurors in Los Angeles ordered Johnson & Johnson's DePuy unit to pay $8.3 million to Loren Kransky in the case of Kransky v. DePuy, BC456086, California Superior Court, Los Angeles County (Los Angeles). Kransky's lawsuit was the first of 10,750 to go to trial.
http://www.bloomberg.com/news/2013-03-08/j-j-must-pay-8-3-million-in-suit-over-defective-hip-jury-says.html
"This verdict is a reassuring victory for thousands of individuals who have been injured by the DePuy ASR hip implant," said Daniel C. Burke, Senior Litigation Counsel at Parker Waichman LLP. "The jury's decision sends a message to Johnson & Johnson that they cannot get away with harming patients." Mr. Burke says that the flaws of the DePuy ASR are a prime example of why metal-on-metal hip implants are dangerous as a class of medical devices. Parker Waichman LLP has continued to offer free legal advice to patients implanted with such devices, and advises patients to speak with their doctors if they experience any symptoms of complications, such as:

Pain
Swelling
Difficulty walking, or a change in your ability to walk
Metallosis, high levels of metal ions
Early failure, revision surgery
Bloomberg reports that the jury's verdict came on the sixth day of deliberations, ruling that DePuy Orthopaedics and parent company Johnson & Johnson were negligent with regards to Kransky's ASR hip implant; the verdict included $338,136 for medical expenses and $8 million for pain and suffering. According to Bloomberg, David Vega, who was one of the jurors in the trial, said "I wanted punitive damages" because J&J was slow to correct problems with the recalled hip implant.
Johnson & Johnson recalled 93,000 ASR hips in 2010, citing a failure rate of 12 percent in five years. In Australia, failure rates have exceeded 40 percent in seven years, Bloomberg reports. Kransky's lawsuit alleged that the defects of the metal-on-metal hip implant caused severe complications, including metal poisoning, that forced him to undergo revision surgery. During the trial, his attorneys alleged that DePuy failed to properly test the hip replacement and that the company ignored complaints from surgeons who reported high failure rates prior to the recall.
The DePuy ASR and other metal-on-metal hip implants were approved without clinical testing for safety or efficacy due to the 510(k) approval route, which exempts this requirement as long as manufacturers show that it is similar to a previous device. The U.S. Food and Drug Administration (FDA) is now attempting to change this; the agency has proposed that all-metal hip replacements go through premarket approval, which would require device makers to prove that their products are safe and effective.
https://s3.amazonaws.com/public-inspection.federalregister.gov/2013-01006.pdf
Parker Waichman LLP continues to offer free legal consultations to victims of DePuy ASR and other metal-on-metal hip implant injuries. If you or a loved one experienced premature failure of your implant or other health problems associated with a recalled DePuy ASR Hip Implant or other metal-on-metal hip implant, please contact their office by visiting the firm's DePuy ASR hip implant injury page at yourlawyer.com. Free case evaluations are also available by calling 1 800 LAW INFO (1-800-529-4636).
For more information regarding defective hip implant lawsuits and Parker Waichman LLP, please visit: yourlawyer.com or call 1-800-LAW-INFO (1-800-529-4636).
Contact:
Parker Waichman LLP
Gary Falkowitz, Managing Attorney
(800) LAW-INFO
(800) 529-4636
yourlawyer.com