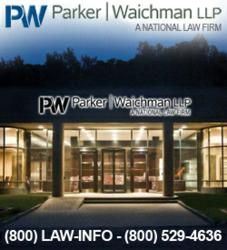 Sadly, Strum's story is just one of thousands of stories to be heard by those who have been injured by the alleged defects of the DePuy ASR
(PRWEB) March 29, 2013
Parker Waichman LLP, a national law firm dedicated to protecting the rights of victims injured by defective medical devices, is commenting on the testimony of Mike Strum, the husband of Plaintiff Carol Strum, during the second DePuy ASR trial (Carol Strum v. DePuy Orthopaedics Inc. et al., case number 2011-L-009352, in the Circuit Court of Cook County, Illinois). According to a Law360 article published on March 28, 2013, Mr. Strum told jurors that his wife was in constant pain after undergoing revision surgery. In light of Strum's case and thousands of other injury reports, Parker Waichman LLP is warning consumers about potential complications related to the DePuy ASR as well as other all-metal hip replacements.
"Sadly, Strum's story is just one of thousands of stories to be heard by those who have been injured by the alleged defects of the DePuy ASR," said Daniel C. Burke, Senior Litigation Counsel at Parker Waichman LLP. "Moreover, it appears that J&J had the opportunity to mitigate these events but failed to protect consumers who trusted that this device would be safe and effective." Mr. Burke says that the alleged flaws of the DePuy ASR are a prime example of why metal-on-metal hip implants are dangerous as a class of medical devices.
Parker Waichman LLP has continued to offer free legal advice to patients implanted with such devices, and advises patients to speak with their doctors if they experience any symptoms of complications, such as:

Metallosis, high levels of metal ions
Early failure, revision surgery
Pain
Swelling
Difficulty walking, or a change in your ability to walk
Carol Strum's lawsuit is the second to go to trial. The first trial ended in an $8.3 million verdict in favor of the Plaintiff, with jurors in Los Angeles ruling that the ASR is defective and that Johnson & Johnson was negligent with regards to the device (Kransky v. DePuy, BC456086, California Superior Court, Los Angeles County (Los Angeles)). According to Law360, Mrs. Strum had the ASR implanted in January 2008 due to arthritis pain. Her husband testified that in 2009, she experienced pain and clicking that could be heard "across the room." In January 2011, Carol Strum had the hip replaced in a revision surgery. According to her husband's testimony, she experienced much more pain and took twice as long to return to her work as a nurse compared to the initial implantation. "The future's uncertain," he testified. "We don't know if she's going to need another revision…The pain ... is constant. We don't anticipate that going away."
Johnson & Johnson and its subsidiary DePuy Orthopaedics recalled 93,000 ASR hip implants in 2010. The company stated at the time that the metal-on-metal hip implants were failing in 13 percent of patients within five years. As of last year, failure rates in Australia have exceeded 40 percent in seven years, according to Bloomberg.
Parker Waichman LLP continues to offer free legal consultations to victims of DePuy ASR and other metal-on-metal hip implant injuries. If you or a loved one experienced premature failure of your implant or other health problems associated with a recalled DePuy ASR Hip Implant or other metal-on-metal hip implant, please contact their office by visiting the firm's DePuy ASR hip implant injury page at yourlawyer.com. Free case evaluations are also available by calling 1 800 LAW INFO (1-800-529-4636).
Contact:
Parker Waichman LLP
Gary Falkowitz, Managing Attorney
(800) LAW-INFO
(800) 529-4636
yourlawyer.com