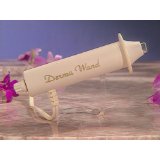 Wayne, PA (PRWEB) June 25, 2012
International Commercial Television, Inc. (OTCQB: ICTL) ("ICTV" or "The Company"), a premier company employing prominently profiled infomercial campaigns to market and brand unique products to the global consumer through multi-channels of distribution, is announcing the following: On June 11, 2012, The Company completed the execution of an agreement with Source Plus, Inc to be the exclusive distributor of DermaWand in China.
The agreement grants Source Plus the exclusive right to distribute, market, sell, and advertise DermaWand through Direct Response Television (DRTV), Print, Catalog, Retail, Spas, and via Website throughout China. Source Plus is required to purchase DermaWand inventory directly from ICTV. The agreement calls for an initial term of 18 months, which will automatically renew for additional 12 month terms, conditional upon Source Plus purchasing a minimum of 100,000 DermaWands per term from ICTV.
Richard Ransom, President of ICTV stated, "ICTV is thrilled to have found a great partner in Source Plus to distribute DermaWand to the over 1.3 billion people who live in China. Source Plus has a long standing record of successfully selling a variety of products in China through DRTV and retail channels. I firmly believe DermaWand will be a huge success, both this year and in the years to come in the Chinese market."
International Commercial Television is a public company trading on the OTCQB under the symbol ICTL. The OTCQB is a dynamic electronic stock market consisting of SEC fully reporting companies. OTCQB stocks may be electronically traded through most major brokerages such as E- Trade, Scottrade and TDAmeritrade.
For further information please contact: International Commercial Television, Inc. Kelvin Claney, Investor Relations 1-206-780-2921 Email Contact: Claney(at)ictvonline(dot)com Website: http://www.ictvonline.com SOURCE: International Commercial Television, Inc.
###
Read the full story at http://www.prweb.com/releases/2012/2/prweb9212615.htm