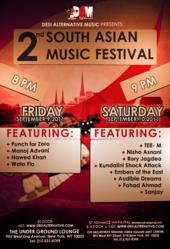 Desi Alternative Music - Where the Spirit of Creativity Lives!
New York, NY (PRWEB) August 31, 2011
The 2nd Annual South Asian Music Festival hosted by Desi Alternative Music will be held over two nights of scintillating live music in pulsating New York City from September 9-10, 2011. Talented bands and solo artists will showcase their immense performing and songwriting skills with strictly original material. The festival will commence on Friday September 9, 2011 on the Upper West Side at The Underground at 8 p.m. and will culminate the following night with the grand lights and setting of the Off Broadway Theater located in the Times Square Arts Center.
South Asian artists are expected to converge from all over the United States and it is anticipated that the artists will play a blend of eastern and western music, displaying a broad range of musical talent from pop, rock, jazz and fusion, to folk and country. Diversity will also be evident in the form of lyrics in Urdu, Hindi, Punjabi and other South Asian languages. Whatever genres and dialects are actually present, one thing is certain: the festival will be a testament to the growing South Asian alternative music scene that has taken storm over the past decade across the United States, and indeed the world, particularly in urban centers like New York City.
Desi Alternative Music Corporation was founded in 2010 to promote the growing alternative music movement for artists who identify themselves as 'desi' (South Asian). Its aim is to spread awareness of non-traditional desi music to a broader audience through annual music festivals, conferences and concerts. It also offers invaluable opportunities to desi artists while reaching out to a global South Asian consumer base as well as industry trendsetters while creating networking opportunities with record labels, journalists, managers and agents.
Desi Alternative's new website at http://www.desialternative.com has more information on ticketing, band listings, press registration and sponsorship inquiries.
Contact:
info(at)desialternative(dot)com
http://www.desialternative.com
###