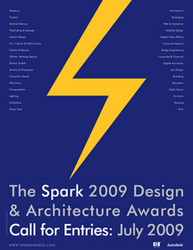 Just as China's manufacturing talents have changed the world, we think it's time to recognise China's massive talent-bank in design
New York, NY (PRWEB) July 29, 2009
Spark Design & Architecture Awards is extending its role in the booming Chinese design industry through SparkChina. These new awards will help Chinese creative teams raise their profile globally.
"Just as China's manufacturing talents have changed the world, we think it's time to recognise China's massive talent-bank in design," says Peter Kuchnicki, executive director of Spark. "SparkChina will bring out the best in Chinese design talent, a powerful new force."
Spark, now in its third year globally, has been forging connections into the Chinese market as it has sought ways to profile the country's vast and expanding base of designers, design agencies and design schools. China is investing heavily in design education, with tens of thousands of product designers, architects and interactive design specialists now graduating every year.
The Spark Awards is open to global entries from design, advertising and media agencies, students and commissioning clients until 15th September (early entry discount applies until 15th August). In addition to the global Spark Awards site at http://www.sparkawards.com. a new dedicated Chinese language website now provides information to ease design entry submissions at http://www.sparkawards.cn
Winners will be chosen internationally by Spark, and featured in Spark Exhibitions in San Francisco at the Autodesk Design Gallery (from October 29th) and at Guangzhou Design Week (from December 4th).
Spark's Chinese partnership is with CitiExpo, organiser of the Guangzhou Design Week - http://www.icograda.org/events/events/calendar521.htm - and the Designweek awards. CitiExpo will undertake development of SparkChina and be its exclusive representative, acting as a bridge to help Chinese designers enter the Spark Awards at the international level.
"Many more designers will now have an opportunity to take part in Spark, and we expect our friendship with China will be the model for future partnerships throughout the world," added Kuchnicki, a New Yorker and veteran design and media connector.
Designers Can Enter Spark Awards Today
Spark is a fresh, modern qualification system that recognizes new processes and technology and seeks to involve people and ideas from untapped sources. Designers from all levels and skill-sets are invited to participate, be they professional, novice or student. Last year's competition attracted designers, art directors, architects, novices, students, design firms, manufacturers, institutions and ad agencies.
The Spark Design and Architecture Awards celebrate the best in design - from dazzling architecture and interiors to the bravest product and digital design. All types of product entries are encouraged, from mobility to medical, along with the best in fields such as branding, graphics, advertising, digital and experiential design.
Spark finalist entries are put in front of jury members from all types of design, plus noted journalists and other influencers. They include:
Executive Jury Chair: Chee Pearlman, Chee & Company
David Albertson, Principal, Albertson Design
John Barratt, President & CEO, Teague Design
D. Philip Haine, Principal, Product Vision Associates
Mark Davis, Director of User Experience, Autodesk
Sally Dominguez, Principal, Rainwater Hog
Rob Forbes, Studio Forbes, Founder, Design Within Reach
Rich Gioscia, Director of Design, Palm, Inc.
Johanna Grawunder, Principal, GRAWUNDER, former partner, Ettore Sottsass Associates
Tong Huiming, Professor and Vice President of College of Design, Guangzhou Academy of Fine Arts
Hanru Hau, Director of Exhibitions, San Francisco Art Institute
Rei Inamoto, Chief Creative Officer, AKQA
Sang-yeon Lee, Director, Samsung Design America
Beatrice Santiccioli, Principal, beatrice santiccioli design
Nathan Shedroff, Chair of Design Strategy MBA Program, California College of Arts
Cameron Sinclair, Founder/Executive Director, Architecture For Humanity
Michael Vanderbyl, Principal, Vanderbyl Design
More information:
Spark Awards (international): http://www.sparkawards.com.
SparkChina: http://www.sparkawards.cn/
###