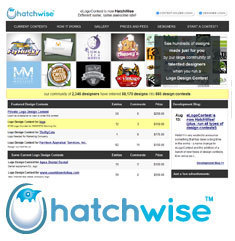 in less then a year we had more then 1,800 designers on board with us, and over 700 businesses had developed their brands using the site.
Georgetown, NY (PRWEB) August 19, 2009
HatchWise originally launched in 2008 as eLogoContest.com, with the intention of creating a platform that would allow multiple designers to compete for work by submitting completed logo design proposals to project briefs (design contests) that had in turn been posted by startup businesses. The businesses review and rate the designs, then purchase the rights to the one they like the best for around $250.
"The response was exciting," reports founder George Ryan, "in less then a year we had more then 1,800 designers on board with us, and over 700 businesses had developed their brands using the site."
By early 2009 it was obvious that much stood to be gained by expanding the services offered by the website's community. As Ryan explains, "We had originally thought our niche was going to be solely facilitating logo design, but we kept having people asking us if they could run contests for their new website design, or for a brochure design that they needed, and we quickly came to see that allowing other types of 'design contests' was something that had to be done."
The main problem with broadening their offering was the fact that the site's name, 'eLogoContest,' obviously didn't leave room for much besides logo design projects, so after more than 6 months of debate and search, the decision was made to rebrand the site as 'HatchWise'.
"It ended up being the logical choice," explains HatchWise project coordinator Sharon Howarth. "The fact that we cater to companies that are figuratively 'hatching' new brands, ideas and projects, plus the fact that we consider ourselves to be the perfect solution for those companies, means that rebranding as 'HatchWise' works on every level for us."
Although the HatchWise team is excited about the future, the past hasn't been a journey completely free of conflict. While design contests are generally embraced by the companies using them, and the site has thousands of designers who happily participate, not all graphic designers are so enthusiastic about website's business model.
Some designers take issue with the fact that while as many as 200 designers will create designs for a project, the only one who gets paid is the one who the project holder selects as the project 'winner'. "They feel that some of the designers are working for nothing," says Ryan, "I would counter with the fact that our site provides a platform for freelance designers that wouldn't have a chance otherwise, and even if a designer doesn't have their work purchased, they gain experience, get feedback on their work, and build up their portfolio. I believe strongly in what we are doing, and the fact that we get nasty emails from time to time - ranging from people hoping that we're going to go bankrupt, to people telling us where we can shove the site - doesn't discourage me at all, especially since most of the pushback is from people who feel that our business model threatens their ability to charge outrageous sums of money for their services. Their negativity is more than outweighed by the support we get from all the awesome people that participate on HatchWise."
About HatchWise:
HatchWise is a bootstrapped, completely unfunded company with only two employees besides the founder. Currently there are 2,345 designers from all over the world participating on the site and they have created over 58,000 designs for 900 projects. Although Logo Design Contests remain the prominent feature of the site, users can now also run contests for website designs, brochures, banner ads and more.
For more information about HatchWise please contact George Ryan. To start your own design contest or participate as a designer visit HatchWise.com.
###