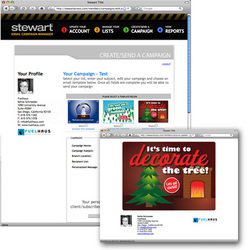 Great design makes it pretty, but strategy gives it power.
San Diego, CA (PRWEB) February 17, 2009
In a troubled economy, Fuelhaus' creative brand strategies help big brands do more with less. The design company, specializing in brand identity for print and the web, is helping medium to large scale companies that are feeling the squeeze in their marketing dollar by doing what they do best: thinking outside the box.
For Fuelhaus, thinking outside the box does more than look good, it saves money. "Great design makes it pretty, but strategy gives it power." Fuelhaus President Kellie Schroeder says, "Our clients love us because we get the big picture and develop a strategy that works effectively for their brand, their campaign goals and their budget."
Sometimes Fuelhaus strategy means designing a product differently. Virgil's Fine Soaps product line is a perfect example of Fuelhaus' creative cost-saving principles at work. Fuelhaus worked closely with the company to refine their product line and develop a container and label solution that helped them cut-costs by ordering bottles and pumps in large quantities and labels in small, digital print runs. The bar soap labels are elegantly designed in one-color and printed on colored paper.
"These strategic solutions pushed Fuelhaus' role from one of label designer to one of solutions provider for the company," Schroeder says, "The dollars that Virgil's Fine Soaps saves in packaging gives them revenue that helps them build out the brand in other ways."
Other times, shrinking budgets requires innovative marketing. Fuelhaus often works with Fortune 500 company's helping them find more efficient promotional, interactive or web-based solutions. Stewart Title's web-based greeting card platform was built with a budget the company already had for print promotions. For this solution, Fuelhaus programmers developed a web design and advanced email platform giving Stewart's hundreds of sales representatives access to their own personal online account. Each user manages their own email database and sends personalized Stewart branded e-cards. This web-based solution saved Stewart enough money in postage and print costs to pay for the dashboard development within the first launch. The cost of each additional e-card campaign is nominal and compounds savings for the company.
"Stewart's online e-card solution is a win-win scenario for the company. It provides a tool for sales reps to reach out to a broader audience on a regular basis with minimal investment," Fuelhaus Marketing Director, Michelle Stinnett says. "This, combined with viral creative and detailed reporting, helps Stewart track a return on each and every campaign. Fuelhaus planning allowed Stewart to implement new, innovative ways to reach their clients, implement the latest technology and save in the long run."
"With today's budget cuts, many companies are losing creative departments when design and innovation should be of primary concern," Schroeder says. "Hiring an experienced strategic design partner is often the way to fill in the blanks in your creative department during lean times."
Fuelhaus Brand Strategy and Design is a San Diego, California based high-end graphic design agency specializing in strategic design and marketing for consumer brands. Founded in 1994, Fuelhaus work includes full-service creative design solutions for global brands.
###