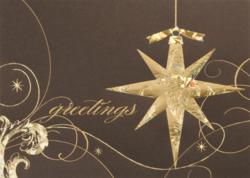 I had always thought, and still do, that sending Christmas cards is a very inexpensive and unobtrusive way to get one's name in front of one's customers and clients.
Oak Hill, VA (PRWEB) October 04, 2011
Design Crafters argues that even though so much communication goes on through email and social media with Facebook, Twitter and Linkedin - all competing for eyes and attention, cards sent through snail mail get more attention. "Direct mail has always been a great source for advertising and getting messages to customers," states Debby Sibert, President of Design Crafters."These days it stands out even more, because fewer businesses are using regular mail to advertise. It is much cheaper to email ads and direct customers to web sites through the various forms of online media. It's much quicker to produce and certainly less expensive, especially when one adds in the constantly rising cost of postage."
"That's why," states Debby, an online retailer of Christmas cards, "beautiful cards sent around the holidays expressing appreciation of one's association has a much greater impact than an email with the same sentiment. The fact that a client, vendor, etc. has gone to the trouble to select a nice holiday card, craft a sentiment, sign it and get it printed, addressed and mailed during the busiest time of year says, 'you are important to us and we want you to know that.'"
Design Crafters has enjoyed serving thousands of loyal customers who have discovered that sending Christmas cards around the holidays is something that has definitely paid off for them. It was brought to their attention by one of their own customers that sending Christmas cards to all their clients and customers, while it wasn't cheap, it was one of the least expensive forms of advertising they used. They stated that they were able to get their company name and logo in from of their clients while simply wishing them "Season's Greetings and Best Wishes for the New Year." There was no "pitching" involved, at the same time in an unobtrusive way, they were able to remind their customers that they were still around. They were able to show appreciation for their clients' patronage and come across as caring – which of course they were.
Design Crafters has been selling Christmas cards online since 1996 and seen a steady growth of business as more and more businesses see the value in sending out Christmas cards during the holidays. As an early order incentive this year, they are offering an extra 5% discount on top of their already reduced prices until October 30, 2011. Just use coupon code DCPR5 to redeem.
###