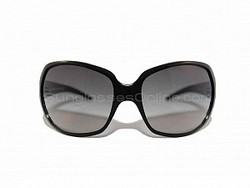 San Diego, CA (PRWEB) December 20, 2008
Sunglasses Online is thrilled to announce the release of the newest addition to their quality discount designer sunglasses collection, a pair of women's black oversized D&G sunglasses, a style that has become a trademark of supermodels and stars everywhere. These fabulous and affordable oversize sunglasses are the perfect gift or purchase for any woman, and will become the universal accessory for every outfit and occasion.
This stylish pair of sunglasses is one of many that Sunglasses Online now offers. D&G is a widely recognized, worldwide icon of fashion, and their eyewear designs are no different. This particular design, with oversized black frames, features a silver signature D&G logo on the arms. The gray gradient lens will give you a chic look and fully protect your eyes from harmful UV rays. The best part about these women's D&G sunglasses is that they are highly fashionable, yet come with an affordable price tag! Many times we equate luxury brands with outrageous prices, but Sunglasses Online brings designer style and the lowest prices possible together for savvy shoppers.
This distinctive pair of oversized D&G sunglasses is just the tip of the iceberg at Sunglasses Online! You can find many famous designer sunglasses on the Sunglasses Online website, including Angel, Anarchy, Body Glove, Chanel, D&G, Gargoyles, Oakley, Ray Ban, Vogue, and many more . Sunglasses Online is thrilled to be able to add this stylish and luxurious pair of D&G sunglasses to their large collection of sunglasses. These women's designer sunglasses are also available for the special, because Sunglasses Online is extending the very popular free shipping on any eyewear purchase in the continental U.S., and no sales tax outside of California special through the end of December.
About Sunglasses Online
Sunglasses Online is the leading retailer for sunglasses online, with a passion for offering the best selection of discount sunglasses from all of the hottest designers. They have a paramount selection of styles, such as men's sunglasses, women's sunglasses, performance sunglasses, unisex sunglasses, aviator sunglasses, oversize sunglasses, wrap around sunglasses, and polarized sunglasses. They are confident in the fact that their customers will find the perfect pair to complement their style as well as their attitude. Sunglasses Online is dedicated to bringing their customers an unsurpassed selection of designer sunglasses at the very best value. Not only that, but Sunglasses Online offers affordable style, and a great customer service experience.
###