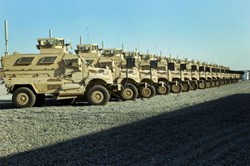 Desktop Alert has proven with irrefutable performance metrics that it's mass notification platform is the fastest Commercial-Off-The-Shelf (COTS) mass notification system available to the Department Of Defense
Chatham, NJ (PRWEB) April 30, 2012
Desktop Alert Inc., the leading provider of IP-Based Mass Notification to the U.S. Army worldwide today announced that the U.S. Army stationed in Afghanistan has procured the Desktop Alert Emergency Mass Notification System (EMNS).
The selection furthers the companies leading position within the U.S. Army as the predominate ip-based mass notification platform postured to support the Warfighters in CONUS and OCONUS locations.
U.S. Army locations seeking to implement an EMNS solution similar to the mass notification system deployed by the U.S. Army in Afghanistan, Fort Huachuca and Fort Hood can contact Desktop Alert for a briefing and system demonstration.
The Desktop Alert EMNS provides bi-directional extensibility and integration with IP-based phones, landline and cell phones, computers, digital displays and kiosks, text messaging, pagers, public address system, common area alerting devices and secure social media end-points. The system also boasts the most complete solution for Cisco UC infrastructure available on the market today with over 700 Cisco UC customers using the award winning Cistera Convergence Server.
The Desktop Alerting Notification System is currently in use at:

U.S. Army Afghanistan
COB Speicher IRAQ
Afghanistan (numerous U.S. Army locations)
National Guard Bureau (Air and Army nationwide)
Fort Hood
Fort Gordon
Fort Lee
Fort Bragg
Fort McAlester
Fort Campbell
Fort Knox
Fort Leavenworth
Fort Leonard Wood
Fort Rucker
Fort Polk
USAG Heidelberg
USAG Brussels
USAG Benelux
USAG Shinnen
United States Military Academy
Fort Huachuca
and other U.S. Department of Defense military installations worldwide.
Certification:
This product has a valid Certificate of Networthiness (CON)
Merit:
The product meets or exceeds the DOD regulatory guidelines as set forth in the following: SECDEF Memo DTG 18 Aug 2010.
Subject:
Final Recommendations of the Ft. Hood Follow-on Review
Recommendation 4.4: Implement Mass Notification Warning Systems DoDI 6055.17 DoD
Installation Emergency Management (IEM) Program DoDI 2000.18 DoD Installation Chemical, Biological, Radiological, Nuclear and High-Yield Explosive Emergency Response Guidelines DoDD 2000.12 DoD Anti-terrorism/Force Protection Program DoDI 2000.16 DoD Anti-terrorism Standards Title 29, Code of Federal Regulations AR 525-27.
The alerts appear as pre-defined or on-the-fly highly intrusive computer screen alerts which force immediate attention to end-users receiving the message with instructions for the action(s) to be taken. A video, audio, image and/or verbal alerts automatically sound/appear over the computer's monitor and speakers.
Alerts are delivered across the enterprise in less than 30 seconds, NOT MINUTES. Latency-based information can be highly dangerous to the mission. Desktop Alerts unrivaled alert delivery speed and low bandwidth technology insures that actionable-intelligence is merely seconds away from end-users. The speed and efficiency of critical notification to end-users ultimately results in the success or failure of the mission.
"Desktop Alert has proven with irrefutable performance metrics that it's mass notification platform is the fastest Commercial-Off-The-Shelf (COTS) mass notification system available to the Department Of Defense" said Howard Ryan, Chief Research and Development, Desktop Alert Inc.
"DoDi 6055.18 mandatory requirements for an emergency management installations require all personnel be alerted within 10 minutes or less. Desktop Alert notifies all workstation personnel in 30 seconds. That is not just exceeding the DoDi 6055.18 mandatory requirement, it is setting a new standard and to that end Desktop Alert is working hard to push the envelope" Ryan added.
About Desktop Alert Inc (http://www.desktopalert.net)
Worldwide U.S. Military organizations such as The United States National Guard, The United States Air Force Academy, The United States Military Academy at West Point, Multi-National Forces in IRAQ, The U.S. Air Force, The U.S. Army now utilize the DTA mass notification platform daily for their organizations emergency communication requirements. Desktop Alert can contact thousands of users with desktop alerts and require receipt confirmation of the message. Those not verified can then be listed on a report and/or sent as a "Target Package" to be automatically contacted by other means such as email, SMS, phone calls and other devices.