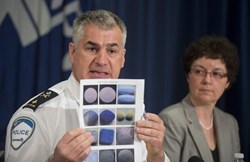 West Palm Beach, Florida (PRWEB) May 16, 2013
Simply put, addiction is a "disease of more." Addicts look for a faster, stronger, more powerful high. Prescription drug abuse has been a growing problem over the past several years. The introduction of Desmethyl Fentanyl- a drug far more potent heroin- onto the streets is like pouring gasoline on an already deadly fire. Montreal police seized 10,000 pills of Desmethly Fentanyl, a drug 40 times more powerful than heroin (for the full article, visit this link)
A Behavioral Health Technician at Recovery Associates' Christian Drug Rehab Center states, "People who are unfamiliar with just how powerful some of these drugs are underestimate the potential dangers. They see this tiny pill and assume that because they use 5 bags of heroin a day that it's no big deal, that they can handle it. The consequences can be tragic."
Recovery Associates is a drug and alcohol treatment center that provides a variety of programs and services for men, women and teens struggling with chemical dependency issues. They have developed drug specific treatment plans for a variety of addictions, including opiate addiction.
At the core of their philosophy is the belief that addiction is a treatable illness. Their addiction treatment experience has shown that anyone is capable of achieving lasting recovery and physical, mental and spiritual freedom from the disease of addiction.
Their unique program offers three different tracks: a Traditional Track, an Expressive Therapies Track and a Christian Track. They believe that by utilizing a variety of therapies they can better assist their clients in finding their own individualized path to recovery. Their focus is on the underlying issues that have led to the addictive behaviors and destructive patterns.
Recovery Associates' multidisciplinary team is made up of a Board Certified Addictions Psychiatrist, Master's Level Therapists and Certified Addictions Counselors. They are passionate about recovery and helping individuals and families begin the healing process from addiction.