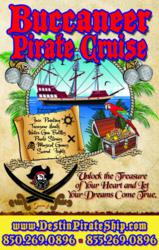 "We are honored Regions has chosen the Buccaneer to be featured in their upcoming campaign. Regions has been a partner in our growth and has helped make our dreams come true," says Captain Steve Wilson.
Destin, Florida (PRWEB) November 29, 2012
November 28, 2012--Regions Bank was on location last week to film Captain Steve and the Buccaneer Pirate Cruise for its advertising campaign featuring Regions Bank small business customers. Maritime Chartering, which owns the Buccaneer, is one of only six small businesses within Regions' 16 state footprint, to be selected for the 2013 campaign.
The Buccaneer Pirate Ship is a family-friendly two-hour pirate cruise for both children and adults to talk, walk, sing and dance like pirates. It features face painting, treasure hunts and tall tale stories of the gold beneath the waters.
The 2013 edition of Regions' Small Business Testimonial Campaign will launch in January.
To see Captain Steve's story and other stories of how Regions has helped small businesses grow, visit http://www.Regions.com/success.
For more information on the Buccaneer, please visit their website at http://www.DestinPirateShip.com or call (850) 269-0896.
# # #