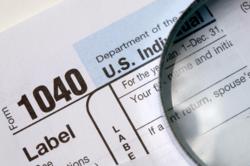 If you believe you may have trouble paying your tax bill, contact the IRS immediately.
Wilmington, DE (PRWEB) November 23, 2012
"If you believe you may have trouble paying your tax bill, contact the IRS immediately," explains DE-Taxes Owner, Don Rice. "In many cases, there are steps we can take to help ease the burden. You also should file a tax return even if you are unable to pay so you can avoid additional penalties."
Here are some "what if" scenarios and the possible tax impact:
What if I lose my job?
The loss of a job may create new tax issues. Severance pay and unemployment compensation are taxable. Payments for any accumulated vacation or sick time also are taxable. You should ensure that enough taxes are withheld from these payments or make estimated tax payments to avoid a big bill at tax time. Public assistance and food stamps are not taxable. The IRS has updated a helpful publication which lists a number of job-loss related tax issues. For more information, contact a DE-Taxes professional today!
What if I withdraw money from my IRA?
Generally, early withdrawal from an Individual Retirement Account (IRA) prior to age 59½ is subject to being included in gross income plus a 10 percent additional tax penalty. There are exceptions to the 10 percent penalty, such as using IRA funds to pay your medical insurance premium after a job loss.
What if my debt is forgiven?
The tax impact of debt forgiveness or cancellation depends on your individual facts and circumstances. Generally, if you borrow money from a commercial lender and the lender later cancels or forgives the debt, you may have to include the cancelled amount in income for tax purposes. The lender is usually required to report the amount of the canceled debt to you and the IRS on a Form 1099-C, Cancellation of Debt. There are several exceptions to the taxability of cancelled debt, such as insolvency or bankruptcy.
What if I can't pay my installment agreement?
You have several options available if your ability to pay has changed and you are unable to make payments on your installment agreement or your offer in compromise agreement with the IRS. Call the IRS immediately at 1-800-829-1040. Options could include reducing the monthly payment to reflect your current financial condition. You may be asked to provide proof of changes in your financial situation so have that information available when you call.
About DE-Taxes, Inc.
DE-Taxes is comprised of a dynamic team of Delaware tax services professionals who are committed to providing a premium service at a competitive price. DE-Taxes has been servicing the Tri-State region for over 25 years. We are committed in providing our clients a unique experience for all tax service needs.
For more information, visit http://www.DE-Taxes.com or call (302)477-1108. DE-Taxes can also be found on Linked In, Facebook and Twitter.