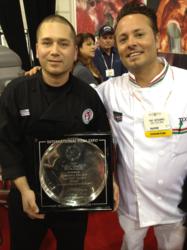 It's an incredible honor to be named World Champion Pizza Maker of the Year, alongside so many master pizza chefs
Las Vegas, NV (PRWEB) March 22, 2012
When Shawn Randazzo set out to craft his own special pizza dough, it had to be perfect. He logged countless research hours, tested and tweaked ingredients, baked batch after batch and employed customers, friends and family as taste testers. Nearly two dozen batches later, his taste testers' grins told him he'd done it. Randazzo had created a new Detroit style pizza that blends traditional authenticity with his own signature touch for a rich, flavorful pizza destined to impress the palate. Randazzo found out just how good his recipe is when he was crowned World Champion Pizza Maker of the Year, the industry's most prestigious award, at the 2012 International Pizza Expo, held from March 13 to March 15 at the Las Vegas Convention Center.
With more than 10,000 in attendance at the world's largest pizza competition, Randazzo beat a pool of international pizza chefs and was awarded champion by expert judges such as renowned "Let's Dine Out" television host, radio personality and food critic Allan Borgen; and Bravo Network "Top Chef" guest judge and Citizen Cake owner Elizabeth Faulkner. He won the American Pan Pizza Division by a record margin with a score of 130.65, then claimed top honors over the winners of the other three pizza divisions (Traditional, Non-Traditional and Italian-Style) in a blind box competition. Randazzo is the first American to win the award since Tony Gemignani in 2007.
"It's an incredible honor to be named World Champion Pizza Maker of the Year, alongside so many master pizza chefs," said Randazzo. "We've said for years that Detroit style pizza is among the world's best, and it gives me great pride to prove it with this victory."
"Secret Ingredients" and Fast Fantastic Flavor: Just 35 Minutes To Wow Judges
The blind box competition pitted Randazzo against three other award-winners in a race to the best pizza. Each competitor had a total of 35 minutes, including bake time, to present their pizzas to the judges. They had to use previously undisclosed ingredients plus a mandatory "secret" ingredient – in this case, Cattleman's BBQ Sauce. Competitors had five minutes to collect ingredients, ten minutes to prepare them and 20 minutes for baking. The competition went down to the wire as Randazzo presented his award-winning pizza to the judges with under 30 seconds left on the clock.
"Not knowing what the ingredients would be going in to the blind box competition was challenging but exciting," said Randazzo. "It's a fast-paced blitz of pizza-making, just like you'd see on a food TV reality show, and to be there in that atmosphere is incredible. It's not about making money from our pizzas; everyone there is passionate about the pursuit for the perfect pizza. We deeply care about the quality of our ingredients, the precise preparation techniques, the presentation and of course the texture and flavor. To get to compete against so many great pizza chefs, and great people, is an experience of a lifetime. And to win it all is even better."
Randazzo's champion pizza featured a blend of three cheeses topped with chicken breast, bacon, sautéed fresh garlic, onions, chives and the required Cattleman's BBQ Sauce. He won the American Pan Division with a Chicken Caesar pizza, topped with mozzarella and brick cheeses, chicken breast, applewood smoked bacon, red onions and Caesar dressing, baked and finished with romaine lettuce, shaved Parmesan and grated Romano. Both pizzas will be served when Randazzo launches his new brand, Detroit Style Pizza Co., in mid-2012.
In addition to winning World Champion Pizza Maker and First Place in the American Pan Division, Randazzo will now represent the United States for four years in the Best of the Best Pizza Competition, held annually in Las Vegas.
Pizza History In The Making: Detroit-Style Pizza Co. To Launch In 2012
Randazzo is a disciple of the original Detroit style pizza, first created by Gus Guerra in 1946. Detroit style pizza features dough that's soft and airy on the inside yet crunchy on the bottom, then lined with pepperoni and edge-to-edge cheese that caramelizes on the crust, topped with fresh ingredients, baked in a well-seasoned blue steel square pan, then drizzled with rich red sauce. It's the pizza that Randazzo serves at Cloverleaf Pizza Carryout and Delivery in metro Detroit, which he owns and operates with his mother, Linda Michaels. In mid-summer 2012, Cloverleaf will be transitioned to their new brand, Detroit Style Pizza Co., which will serve Randazzo's new award-winning pizza recipe.
"Detroit Style Pizza Co. was born out of my passion for the perfect pizza," said Randazzo. "The new signature recipe is not the same pizza served by Cloverleaf. It tastes even better and passed the ultimate test by winning at the International Pizza Expo. Not just another pizzeria, Detroit Style Pizza Co. will continue our tradition of baking signature pizza that people feel good about, that they enjoy while making memories with family and friends, and that they love eating."
For more information visit http://www.DetroitStylePizza.com.
Detroit Style Pizza Co. will serve the award-winning Authentic Detroit Style Pizza in its two Metro Detroit locations and increase awareness of Detroit style pizza through expansion, education, and sharing its history while providing memories and opportunities for others. Owned and operated by Shawn Randazzo and his mother, Linda Michaels, Detroit Style Pizza Co. will be located at St. Clair Shores (586-445-2810) and Clinton Township (586-286-9030); and deliver Detroit style pizzas coast-to-coast via mail order. Focused on quality, community and people, Detroit Style Pizza Co. will be open from 3 p.m. to 10 p.m. weekdays; 11 a.m. to 11 p.m. Friday and Saturday; and 11 a.m. to 10 p.m. Sunday.
Media Contact: Shawn Randazzo
Owner, Detroit Style Pizza Co.
586-489-4211
shawn(at)detroitstylepizza(dot)com
# # #