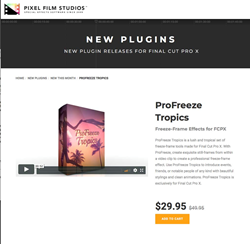 "ProFreeze Tropics is the perfect summer breeze for an tropical inspired Final Cut Pro X project."
ALISO VIEJO, Calif. (PRWEB) September 07, 2018
ProFreeze Tropics is a lush and tropical set of freeze-frame tools made for Final Cut Pro X. With ProFreeze, create exquisite still-frames from within a video clip to create a professional freeze-frame effect. Use ProFreeze Tropics to introduce events, friends, or notable people of any kind with beautiful stylings and clean animations. ProFreeze Tropics is exclusively for Final Cut Pro X.
ProFreeze Tropics lets Final Cut Pro X editors create lush freeze-frame effects instantly from any video or image source. To use ProFreeze Tropics, simply move the playhead to the desired frame in the FCPX timeline and use the command "Option + F" or "Shift + H" to hold the frame in place. Place a ProFreeze Tropics preset above the held area and cut out the subject. ProFreeze will do the rest.
ProFreeze Tropics allows users to create a paradise inspired freeze-frame where the attention can be drawn to a specific subject. First, choose between a variety of 6 presets infused with tropical stylings. Then, make changes to the graphics, colors, positions and more using a set of intuitive drop-down menus and slider controls.
FCPX users may individually adjust the placement and angle of the foreground and background layers. After placing the layers, editors can control the amount of dolly, rotation, and camera shake with a set of intuitive controls. The possibilities are limitless using ProFreeze for Final Cut Pro X.
ProFreeze features a built-in masking tool to cut-out and highlight a character or object within a given scene. To use the masking tool, start by clicking around the subject and completing the mask. Command + click to add a point after the initial masking has been completed. Shift + click a point to toggle bezier handles, shift + click the bezier handle to break and relink handle. Option + click on a point to delete it. Refine any cut-out selection with ease using ProFreeze Tropics in Final Cut Pro X.
Established in 2006, Aliso Viejo, California-based Pixel Film Studios is an innovative developer of visual effects tools for the post-production and broadcast community. Their products are integrated with popular non-linear editing and compositing products from Apple FCPX. Apple, the Apple logo, Mac OS X, and Macintosh are registered trademarks of Apple Inc. in the U.S. and/or other countries. All other trademarks and trade names are the property of their respective owners.