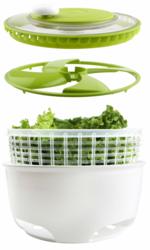 More airflow than any other salad spinner design. Cleaner, drier greens ready for immediate plating...not more drying.
Coppell, TX (PRWEB) November 08, 2012
Leafy green vegetables, particularly the dark green variety, are a great source of vitamins, minerals and plant-based substances that can protect against heart disease, diabetes and even some forms of cancer.
"Greens are the #1 food you can eat regularly to improve your health," said Jill Nussinow, MS, RD, a nutrition educator, registered dietitian and author known as The Veggie Queen. "And #1 on my list is kale, which offers everything you want in a leafy green. It's an excellent source of vitamins, has a good amount of calcium for a vegetable and it supplies folate and potassium."
According to an interview with WebMD, Nussinow ranked kale as the top leafy green in terms of overall nutritional value, among those most commonly consumed. Kale is a nutritional powerhouse and comes in many varieties. However, its intricate, thick leaves – and even thicker stems – can take some time and technique to prepare.
To simplify and speed up the preparation of kale and other nutritious greens, Dexas introduces the Turbo Fan Salad Spinner-Dryer. The design of the Turbo Fan "engine" at the top of the spinner is an innovation that makes it easier and faster than ever to prepare and serve greens. Here's how:
•The Turbo Fan Salad Spinner-Dryer features 100% more air intake into the spinner basket via a multi-blade fan and perimeter air intake vents. No other spinner on the market pulls in this much air to dry greens as they spin. You can actually plate the freshly rinsed greens right away with no additional drying.
•The Turbo Fan Salad Spinner-Dryer is the first to be used exclusively in the sink or on a nearby towel. That's because all rinse water is expelled, along with the moist air, through ports underneath and along the base of the outer bowl. No dirty rinse water is ever retained in the bowl, so there is no risk of it splashing back on the greens.
•The spinner basket holds 5 quarts, equivalent to 10 daily vegetable servings of 2 cups of raw leafy greens. Adults should eat between 2 ½ and 3 cups of vegetables per day, according to the USDA's ChooseMyPlate.gov website.
To encourage more leafy green vegetable consumption, here are The Veggie Queen Jill Nussinow's Top 5 Most Nutritious Leafy Greens:
1. Kale: the best leafy green source of vitamins A, C and K, as well as calcium, folate and potassium. Kale has ruffle-edged, finely veined leaves that range in color from deep green to cream, purple and even black.
2. Collard greens: similar in nutritional value to kale, collards have a heartier and chewier texture and a stronger cabbage-like taste. "Collards are an under-appreciated vegetable and most people don't know enough about them," says Nussinow.
3. Turnip greens: more tender than other greens and needing less cooking time, these sharp-flavored leaves are low in calories, yet high in vitamins A, C and K as well as calcium. "Buy turnips with the tops on and you get two vegetables in one," suggests Nussinow.
4. Swiss chard: with distinctive red stems, stalks and veins on its leaves, Swiss chard has a beet-like taste and soft texture that is perfect for sautéing. Chard contains only 15 calories in one-half cup and is another good source for vitamins A and C. The Veggie Queen recommends a sweet-and-sour chard by adding raisins and vinegar to the sautéed greens.
5. Spinach: Packed with vitamins A, C and folate, spinach has just 20 calories per half-cup cooked serving. Similar to chard, the amount of dietary calcium content in spinach is actually increased through heating. "Cooked spinach gives you more nutrition than raw," says Nussinow.
Dexas Turbo Fan Salad Spinner-Dryer – this new innovation in salad spinners makes it convenient and fun to add more fresh, leafy greens to a well-rounded diet of vegetables, fruits, healthy nuts and whole grains as well as lean protein sources. It makes healthy eating more fun for everyone in the family, as kids love to be "in charge" of the spinning!

Manufactured and assembled in the USA, with both domestic and imported parts
Materials: propylene vented bowl and basket, ABS spinning gears assembly, PETG clear top, BPA-free
Spinner size: approx. 11 in wide x 7 3/4 in tall, 5 quart capacity
Outer bowl and spinner basket are dishwasher safe, spinner top easily disassembles for hand-washing
FDA safe for all food contact
Founded in 1969, Dexas International is proud to be the largest manufacturer of cutting boards in the USA. Dexas also designs, manufactures and markets kitchen tools, gadgets and specialty products that stimulate culinary creativity and healthier eating at home. The line is available in stores and online at Bed Bath & Beyond, Crate & Barrel, The Container Store, Williams-Sonoma, Macy's, Dillard's, Sur la Table and other gourmet specialty stores.
The Turbo Fan Salad Spinner – Dryer is now available in Sur la Table stores and online.
For more information, visit http://www.dexas.com for innovative products for the kitchen, office and even for pets. Follow Dexas on Facebook and get ideas for healthy eating and kitchen creativity by following Dexas on Pinterest.
Reference: WebMD.com, TheVeggieQueen.com, ChooseMyPlate.gov, Dexas.com