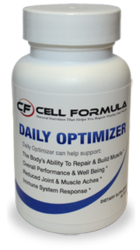 New all natural DHEA supplements help boost testosterone levels is now available from wellness products provider, True Healthy Products and contains components beneficial to men over 30.
(PRWEB) April 13, 2012
True Healthy Products recently released their new Cell Formula supplement line for men over 30 which features the DHEA supplements product, "Daily Optimizer". The Daily Optimizer is a testosterone boosting supplement which contains key ingredients for men over 30 including DHEA and L-Arginine.
A Free Report on the new Cell Formula and all of its components is available on the company's website: http://www.cellformula.com
According to formulator and outlined in the Free Report on the new Cell Formula Daily Optimizer, "DHEA levels are known to fall as we age and studies have shown that reduced levels of DHEA resulted in an increased incidence of erectile dysfunction (ED) in men. Insufficient hormone levels can create symptoms such as fatigue, loss of strength, loss of stamina, decreased energy levels, loss of muscle mass, decreased sexual stimulation and softening of bone tissue."
"My sleep pattern is better now with these products. I run 40 miles a week and the Pure Energy product gives me energy and the Daily Optimizer helps me recover and repairs my muscles. These are healthy products that will enhance your performance," says Roger Craig, 3x Super Bowl Winner.
"L-arginine is used for heart and blood vessel conditions including congestive heart failure (CHF), chest pain, high blood pressure, and coronary artery disease. L-arginine is also used for recurrent pain in the legs due to blocked arteries, decreased mental capacity in the elderly, erectile dysfunction (ED), and male infertility." - referenced from WebMD online, under the category, Vitamins and Supplements, L - ARGININE.
The new Cell Formula line of all natural supplements for men over 30 features the natural testosterone boosting "Daily Optimizer" which contains DHEA supplements and L-Arginine for men's optimal health. The Cell Formula line also contains a nitric oxide booster "Pure Energy, a "Lean Protein" and a whole food multivitamin "Anabolic Base" all of which will provide natural nutrition that helps regain vitality and youth.
For more information about DHEA supplements and the Cell Formula all natural supplement line visit the company's website at http://www.cellformula.com.
True Healthy Product, LLC
2460 N. Courtenay Pkwy, #210
Merritt Island, FL 32953
888-400-2920