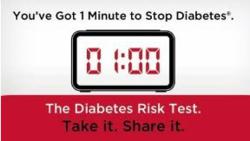 ...type 2 diabetes can be prevented or delayed by losing just 7 percent of body weight through regular physical activity and healthy eating.
Scarsdale, New York (PRWEB) March 21, 2013
Tuesday, March 26, 2013, is the 25th Annual American Diabetes Association Alert Day, a one-day, "wake-up call" asking the American public to take the Diabetes Risk Test to find out if they are at risk for developing type 2 diabetes.
Diabetes is a serious disease that strikes nearly 26 million Americans including 1 in 10 people living in New York City, Long Island, Westchester, Putnam and Orange counties. A quarter of those affected by diabetes, are not aware that they have the disease. Recent estimates project that as many as one in three American adults will have diabetes in 2050 unless we take the steps to Stop Diabetes.
An additional 79 million, or one in three American adults, have prediabetes which means that their blood glucose (sugar) is higher than normal, but not high enough to be classified as diabetes. If trends continue, one in three children who were born after 2000 will develop diabetes within his or her lifetime. For minorities, this number becomes one in two. Early intervention via lifestyle changes such as weight loss and increased physical activity can help delay or prevent the onset of type 2 diabetes. The American Diabetes Association is fighting to Stop Diabetes and takes the opportunity of Alert Day to help identify those who are undiagnosed and those at risk for type 2 diabetes, by educating people about diabetes risk factors and warning signs.
Unfortunately, diagnosis often comes seven to 10 years after the onset of the disease, after disabling and even deadly complications have had time to develop. Therefore, early diagnosis is critical to successful treatment and delaying or preventing some of its complications such as heart disease, blindness, kidney disease, stroke, amputation and death.
"Studies have shown that type 2 diabetes can be prevented or delayed by losing just 7 percent of body weight (such as 15 pounds if you weigh 200) through regular physical activity (30 minutes a day, five days a week) and healthy eating," said Maudene Nelson , RD CDE, ADA Volunteer. "There is no 'cookie cutter' diabetes, not everyone develops it or treats it exactly the same way, but everyone has to do what's needed to keep blood sugar in the target range. The American Diabetes Association hopes that this Alert Day will encourage people to take the Diabetes Risk Test and share it with their loved ones. By understanding your risk, you can take the necessary steps to help prevent the onset of type 2 diabetes. "
To help people better recognize their own risk for type 2 diabetes, the American Diabetes Association provides the Diabetes Risk Test, asking users to answer simple questions about weight, age, family history and other potential risks for prediabetes or type 2 diabetes. Preventative tips are provided for everyone who takes the test, including encouraging those at high risk to talk with their health care provider. You can be part of the movement to Stop Diabetes and get your free Diabetes Risk Test (English or Spanish) by visiting us on Facebook, taking the test online at http://www.diabetes.org/newyork or calling 1-800-DIABETES (1-800-342-2383). Although Alert Day is a one-day event, the Diabetes Risk Test is available year-round.
The primary risk factors for type 2 diabetes are being overweight, sedentary, over the age of 45 and having a family history of diabetes. African Americans, Hispanics/Latinos, Native Americans, Asian Americans and Pacific Islanders are at an increased risk for developing the disease.
During the week leading up to Alert Day as well as on Alert Day, participating Westchester hospitals and health care professionals will be making PA announcements every few hours to remind people to take the risk test either online or in the lobby of their school and hospital. Further on Alert Day, Whole Foods will host a Vegan cooking class on from 5 pm-7pm, in Yonkers, NY, at 1 Ridge Hill Blvd. The Risk Test and more information about diabetes will be available at the store location.
The American Diabetes Association is leading the fight to Stop Diabetes and its deadly consequences and fighting for those affected by diabetes. The Association funds research to prevent, cure and manage diabetes; delivers services to hundreds of communities; provides objective and credible information; and gives voice to those denied their rights because of diabetes. Founded in 1940, our mission is to prevent and cure diabetes and to improve the lives of all people affected by diabetes. For more information please call the American Diabetes Association at 1-800-DIABETES (1-800-342-2383) or visit http://www.diabetes.org. Information from both these sources is available in English and Spanish.
About HungerShield
HungerShield is an innovative appetite control drink mix created by four registered dietitians, Elizabeth DeRobertis MS, RD, CDN, CDE, Heather Zeitz RD, CDN, Elizabeth Pecoraro MS, RD, CDN and Dafna Chazin MS, RD, CDN. HungerShield is the only product on the market designed specifically to curb appetite through a unique blend of high quality and natural ingredients, including protein, fiber and probiotics. It is also the only product in this category that was created by healthcare professionals and can work with any diet plan on the market. For more information about the product, a list of locations where HungerShield is sold, or to purchase the product online, please visit http://www.hungershield.com. You can follow HungerShield on Twitter @HungerShield and on Facebook.