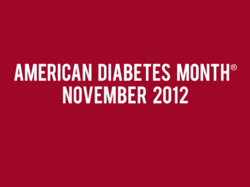 With the use of simple statistical methods and simple graphs, diabetes and many other diseases can be controlled.
State College, PA (PRWEB) November 05, 2012
When quality professional Bill Howell was diagnosed with Type 2 Diabetes, he relied on the same Six Sigma methods he uses to improve quality while on the job.
Howell is one of the estimated 26 million Americans who currently live with diabetes, a disease being recognized during November by the American Diabetes Association. If left uncontrolled, diabetes can damage many parts of the body, leading to heart attacks, strokes, amputation, blindness, kidney failure and nerve damage.
But there is good news: diabetes complications can be prevented or delayed by properly managing blood glucose, blood pressure and cholesterol levels, and by eating right and being physically active.
As a quality professional, Howell had extensive experience using Six Sigma and data analysis to identify and remove defects. After thinking about his diagnosis, he realized he could look at his own symptoms as defects that could be eliminated.
He divided his diabetes plan into the methodology's five DMAIC phases – define, measure, analyze, improve and control – and used Minitab Statistical Software for data analysis.
Howell began by defining the problem he needed to solve and crafted a goal statement. Since his symptoms corresponded to high blood glucose, he had to bring his levels below 125 mg/dL. To reduce symptoms naturally and curb dependence upon medication, Howell also wanted to follow his doctor's recommendations for diet and exercise.
After verifying that his glucose meter produced valid results—to make sure he could trust the data he collected—Howell began tracking key metrics such as blood glucose levels and daily food intake, and then charted and analyzed his data with Minitab to identify sources of variation.
Using bar charts with reference lines showing daily limits, he tracked each day's total calories, fats, and carbohydrates. The charts helped him keep his diet in check, and showed him where dietary changes might help him meet other project goals, such as keeping his blood pressure and cholesterol levels down.
They also helped him communicate and work with his physician. "I found that even a simple chart or graph can do wonders," says Howell. "Bring charts and your set of data with you to your doctor's visit, and together you can make an informed decision."
To further identify gaps between his current actions and his goals, Howell used Minitab control charts to graph his diet, medication intake, and glucose levels in relation to predetermined upper and lower bounds. If his data fell outside of the bounds, Howell knew that his process changed, and he could adjust accordingly.
By tracking his dietary intake and following his doctor's prescribed diet, exercise, medication, and blood testing plan, he brought his daily blood glucose level down to the 125 mg/dL target level less than two months after his diagnosis.
By continuing to follow his process, Howell eventually weaned himself completely from the medication he initially took to lower blood glucose levels. He has also dropped nearly 45 pounds and has seen an almost complete reduction in all of his diabetes symptoms.
Howell credits much of his success to changes in his diet and following his physician's medical recommendations, but says he wouldn't have been able to control his disease as quickly and as effectively without Six Sigma and the statistical tools found in Minitab software.
"I'm a big believer in using data to make informed decisions in everything I do," says Howell. "With the use of simple statistical methods and simple graphs, diabetes and many other diseases can be controlled."
Howell details his complete strategy for managing diabetes in his book, I Took Control: Effective Actions for a Diabetes Diagnosis.
More information about Howell's experiences is also available in a feature article on Minitab.com at http://www.minitab.com/company/news/news-basic.aspx?id=11292. For additional information about diabetes and the events taking place for American Diabetes month, visit http://www.diabetes.org/in-my-community/programs/american-diabetes-month/.
About Minitab
Minitab Inc. delivers software and services for quality improvement and statistics education.
Minitab Statistical Software is the preferred data analysis tool for businesses of all sizes and is used in more than 100 countries by thousands of distinguished companies, including Toshiba, DuPont, Boeing, Royal Bank of Scotland, Nestlé and the leading Six Sigma consultants. It has been used to implement virtually every major Six Sigma quality improvement initiative, and to teach statistics in over 4,000 colleges and universities worldwide.
Quality Companion by Minitab is the package professionals use to plan and execute Six Sigma projects in companies around the world, including Xerox, ITT Industries, Providence Health System, Nissan North America and LexisNexis.
Quality Trainer by Minitab provides easy access to quality statistics expertise whenever you need it. This subscription-based online learning course lets you learn or refresh your knowledge anytime and helps you use Minitab to apply statistics properly. Interactive lessons based on real problems make concepts easy to retain.
Minitab Inc., headquartered in State College, Pa., operates offices in the United Kingdom, France and Australia and has additional representatives throughout the world. For more information, visit http://www.minitab.com.