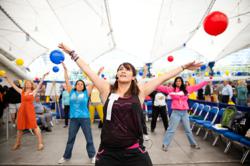 Santa Clara, CA (PRWEB) March 18, 2013
Diabetes affects 3.7 million people in the state of California. Many are asking the same question: "Does anyone understand what it's like to live with diabetes?" Taking Control of Your Diabetes (TCOYD) is a 501(c)3 not-for-profit organization that has been educating and motivating diabetes communities in cities around the country since 1995, and they understand. TCOYD will be hosting their fifth conference in Santa Clara with an all-star cast of diabetes experts for a day that will ignite motivation, offer hope and change the life of anyone with diabetes!
Steven Edelman, MD, Endocrinologist and Founder and Director of TCOYD, was diagnosed with diabetes at the age of 15. Edelman was told that blindness, kidney failure and amputations were likely to occur after several years and that his life expectancy wouldn't exceed 20 years. That was not a prediction that he was willing to settle for. Edelman went into medicine to learn how to conquer this condition and help others afflicted with it. At the age of 57 he is living well with diabetes and had dedicated his medical career to educating and empowering others with this disease.
Join TCOYD at the Santa Clara Convention Center on Saturday, March 23, 2013 from 9:00am – 5:00pm. Expect motivational, uplifting and informative presentations from leading diabetes experts, one-on-one advice from endocrinologists, diabetes educators, dietitians, pharmacists and personal trainers, along with workshops that include the most up-to-date information on diabetes care and self-advocacy in a variety of topics and formats.
SPACE IS LIMITED: pre-registration is recommended.
Registration fees: $20 per person ($15 per person for groups of 2 or more) on or before 12 noon PST Wednesday, March 20, 2013. Day-of event registration is $25 and begins at 7:30am at the Santa Clara Convention Center. FINANCIAL ASSISTANCE IS AVAILABLE BY CALLING TCOYD.
To register or to get more information, call 800.99.TCOYD (800.998.2693) or visit http://www.tcoyd.org.
About TCOYD: TCOYD is a San Diego-based 501(c)3 charitable diabetes educational organization dedicated to informing and empowering people with type 1 and type 2 diabetes to take an active role in their health. This is the 142nd national event held since the organization's inception in 1995.
About Steven V. Edelman, MD: Steven V. Edelman, MD, Founder and Director of Taking Control of Your Diabetes (TCOYD). Edelman, an internationally recognized leader in diabetes treatment, research and education says, "It is my conviction, that health care in this country will improve when people living with diabetes are informed and empowered to take an active role in their own condition." Dr. Edelman is a Professor of Medicine at University of California, San Diego and Director of the Diabetes Care Clinic at the VA Healthcare System in San Diego.
In Collaboration With: American Diabetes Association and JDRF
Supported By: Lilly, Novo Nordisk, Sanofi, Bayer Healthcare, Boehringer Ingelheim, Bristol-Myers Squibb Company, Heal2Gether, Lifescan Animas, Medtronic, Abbott Diabetes Care, BD, Dexcom, Insulet Corporation, Merck, and Tandem Diabetes Care