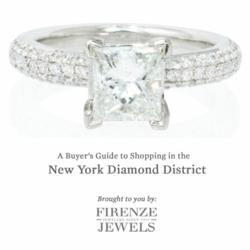 This guide is designed to prepare first time diamond buyers with the questions they'll face as well as what questions to ask when shopping in New York's Diamond District or elsewhere.
New York, New York (PRWEB) June 28, 2012
New York's famed Diamond District has undergone numerous changes throughout the decades. However, one thing remains a constant for shoppers – navigating through the hustle and bustle to find the best deal on a quality diamond. With this in mind, longtime jeweler Firenze Jewels recently announced the release of 'A Buyer's Guide to Shopping in the New York Diamond District'. It offers a frank and unique perspective into the world's largest hub for diamonds and fine jewelry. "This guide is designed to prepare first time diamond buyers with the questions they'll face as well as what questions to ask when shopping on New York's 47th Street or elsewhere." said E-Commerce Director Gabrielle Guzman.
1. Pre-shopping
If you haven't done so already, you're going to want to familiarize yourself with The 4 C's. These are the fundamentals to finding the best quality diamond within your budget. Some shops in the Diamond District also have websites where most of their jewelry inventory is displayed. Use them to your advantage. Read about a store's policies, how long they've been in business and their Better Business Bureau accreditation. View the styles of jewelry and rings they carry to get a sense of what you're looking for (halo? antique style? pavé?). A few stores also display loose diamond inventory online. If you find something that interests you, be sure to make an appointment in advance to reserve the diamond(s) for a private viewing as many times they aren't readily available on the premises. This will save you time.
2. Browse and compare
Upon arrival, it's easy to get a little overwhelmed. Have a list handy of the merchants you've researched and thoroughly vetted. Feel free to glance at other stores that catch your fancy, but keep in mind that policies vary from shop to shop. Are all their diamonds 100% natural? What's the jeweler's stance on ethical diamond sourcing? What trade organizations do they belong to? During your visit, don't be lured by signs such as "50% off", "Wholesale to the Public", "Discounted Prices" ect.. As the old adage goes: "If it sounds too good to be true, it probably is". The only way of really knowing if you got a good deal is to shop comparable items and ask questions. Always go with your gut instinct.
3. What to avoid
Don't do business with hawkers. It's no secret; on occasion, the Diamond District has received negative press about salespeople who openly solicit shoppers on the sidewalk. You'll find them as much of a nuisance as we do. It's been an on-going conflict in the area. On the same note, avoid aggressive salespeople you may encounter. If at any point in time you feel uncomfortable, simply move on to the next shop or exchange.
4. What to look for
Be certain the diamond you're buying is certified by a renowned grading institution such as the Gemological Institute of America (G.I.A) or European Gemological Laboratory (E.G.L.). Familiarize yourself with what the certifications should look like. At any shop you visit, a jeweler should be able to provide you with at least a 10x magnification loupe or microscope. Upon examining the diamond, verify that inclusions (if any) correlate with what is shown on the certificate.
5. Sealing the deal
Have a written copy of the store's return or exchange policy. For an honest third party appraisal, be sure to find a truly independent appraiser who is not connected with any diamond sellers and does not sell diamond or jewelry. Lastly, it's important to obtain a copy of the jeweler's appraisal (normally provided free of charge) and insist the merchant put all jewelry claims on the sales slip.
About Firenze Jewels:
Jewelers since 1937, Firenze Jewels houses the world's leading bridal jewelry designers including Simon G, Ritani, Natalie K, Christopher Designs and Le Vian as well as a vast collection of fine hand-crafted engagement rings and wedding bands designed in Italy. To learn more, please visit http://www.firenzejewels.com
About Jeffrey Levin:
For 16 consecutive years, Firenze Jewels' Jeffrey Levin was elected by other Diamond District merchants to serve as Chairman of Board of the 47th Street Business Improvement District. Jeffrey has worked closely with the Mayor's office, the New York City Department of Consumer Affairs, and other city officials, to uphold and protect the rights of all consumers doing business on 47th Street.