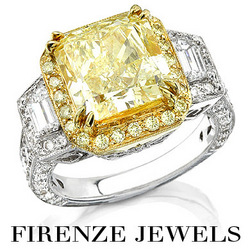 Due to the increased demand for a quicker, smarter online search, we've implemented a progressive diamond search that is sure to please even the savviest online shopper
New York, NY (PRWEB) August 23, 2007
Firenze Jewels, a family owned and operated retail store located in the heart of NYC's Diamond District, introduces an innovative fancy diamond search tool that allows website shoppers to search by color, size, and price range for diamond jewelry of their choice. "Due to the increased demand for a quicker, smarter online search, we've implemented a progressive diamond search that is sure to please even the savviest online shopper," says Gabrielle Guzman, Director of Internet Operations for Firenze Jewels. Currently, Firenze Jewels is one of the only online retailers in the industry to offer a unique diamond search.
For consumers looking for the perfect fancy color diamond, this new search tool gives online consumers the chance to browse and order from the store's massive inventory. "Within a matter of moments, I was able to narrow down my search for the perfect yellow diamond engagement ring. The website couldn't have been easier to use, and I feel nothing but gratitude towards Firenze for making my purchase a breeze," says Cory Robinson, a loyal Firenze Jewels customer.
Fancy color diamonds are currently the hottest and most exclusive trend in the jewelry industry. Due to their rarity and precious attributes, the rich and famous have taken notice and have purchased fancy color diamonds in all shapes, sizes and settings including antique style wedding ring versions. Stones in larger sizes are now selected as centerpieces for vintage engagement rings and right hand diamond ring settings, as they were in centuries past.
Firenze Jewels' fancy diamond inventory currently ranges from stones as small as 0.42 carats to stones as large as 16.82 carats. Each diamond is displayed with its distinctive characteristics and is accompanied by a gemological certificate from a certified laboratory such as the world-renowned G.I.A. For readers who would like to learn more about Firenze Jewels' vast collection of fancy color diamonds, or to view their extensive diamond engagement ring and diamond wedding ring collection, please visit http://www.firenzejewels.com.
About Firenze Jewels
Firenze Jewels features the world's top designers, an extensive collection of G.I.A. and E.G.L. certified diamonds, and the most elegant and sophisticated jewelry. Firenze Jewels has been family owned and operated since 1937. It is located in the heart of the Manhattan Diamond District. Its staff, which includes talented designers as well as a graduate gemologist from the renowned Gemological Institute of America, collectively brings decades of knowledge and expertise to ensure every diamond jewelry shopping experience is a positive one.
###