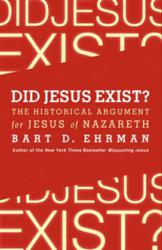 "The reality is, whatever else you may think about Jesus, he certainly did exist." – Bart Ehrman, from the Preface
San Francisco, CA (PRWEB) March 20, 2012
Each week for the last several years, leading New Testament scholar Bart Ehrman has received at least a handful of inquiries about the existence of Jesus—did he really exist? Was he real? And, if so, who was he?
The answer, to Ehrman, is obvious: of course he existed, of course he was a real human being. So then why is he asked these same questions at each public appearance? Why do his critics, conspiracy theorists, bloggers, and certain scholars continue to promote—persistently and loudly—the idea that Jesus of Nazareth was nothing but a mythical figure?
In Did Jesus Exist?: The Historical Argument for Jesus of Nazareth (March 2012; Hardcover; HarperOne), Ehrman aims to end the argument once and for all, offering decisive textual evidence for the existence of Jesus. Compiling and examining biblical texts and the wider historical record of the ancient world, Ehrman methodically demolishes both the scholarly and popular arguments against the life of Jesus, proving that he existed—though not necessarily as mainstream Christianity has made him out to be.
According to Ehrman:
Jesus did exist. He may not have been the Jesus that your mother subscribes to, or the Jesus of the stained glass window, or the Jesus of your least favorite televangelist, or the Jesus proclaimed by the Vatican, the Southern Baptist Convention, the local mega-church, or the California Gnostic. But he did exist, and we can say a few things, with relative certainty, about him.
Sure to surprise his critics and spark vigorous debate amongst his fans, Did Jesus Exist? is a groundbreaking work that will serve as a vital resource for anyone interested in Jesus, the Bible, and the birth of Christianity.
About the Author
Bart D. Ehrman is the author of more than twenty books, including the New York Times bestselling Misquoting Jesus, God's Problem, Jesus, Interrupted, and Forged. Ehrman is the James A. Gray Distinguished Professor of Religious Studies at the University of North Carolina, Chapel Hill, and is a leading authority on the Bible and the life of Jesus and has been featured on a variety of top media outlets. He lives in Durham, N.C.
Select Praise for Bart Ehrman:
"Ehrman's clarity is something to emulate." — Lisa Miller, Newsweek
"[A] serious inquiry.…Ehrman pursues it with an energy and goodwill that invite further conversation with sympathetic and unsympathetic readers alike. This book (God's Problem) neither trivializes its subject nor demonizes those who have a different view of it, which is more than can be said for the efforts of those fashionable atheist writers whose major form of argument would seem to be ridicule." — Stanley Fish, New York Times
"Ehrman's career is testament to the fact that no one can slice and dice a belief system more surgically than someone who grew up inside it....There's something delicious (for nonbelievers, anyway) about the implacable, dispassionate way that Ehrman reveals how the supposedly 'divine truth' of Christianity was historically constructed." — Salon.com
DID JESUS EXIST?
The Historical Argument for Jesus of Nazareth
By Bart D. Ehrman
HarperOne, an Imprint of HarperCollinsPublishers
March 2012 | $26.99 | Hardcover| ISBN: 9780062204608
###