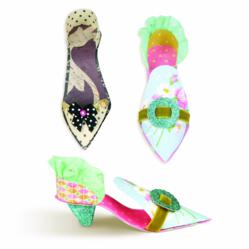 Lake Forest, Calif. (PRWEB) March 28, 2013
Designer and illustrator Brenda Walton has teamed up with Sizzix®, the market pioneer and leader in die-cutting machines and accessories, to present her exciting debut collection of dies for crafters.
Elegant Parisian-style shoes, whimsical teacups and decorative medallions highlight the Favorite Things collection by Brenda Walton™ for Sizzix. A beautiful selection of designs for Sizzlits®, Bigz™ dies and Textured Impressions™ Embossing Folders bring vintage charm to handmade cards and invitations, unique party favors and decor, and personalized gifts.
Brenda Walton's Favorite Things will be available in many stores around the country, including local craft boutiques and major retail craft chains in April. For more information, visit Sizzix.com.
About Brenda Walton
Brenda's world travels have greatly influenced her artistic expression. Her distinctive designs have been warming hearts for over twenty years, and have been translated into a wide variety of licensed products. Brenda delights in designing products that make it easy for crafters to express themselves creatively, and to celebrate every day. Learn more about Brenda Walton.
About Sizzix
Launched in 2001, Sizzix is a division of Ellison Educational Equipment Inc., the market pioneer and leader of die-cutting machines and accessories. Through its portfolio of die-cutting machines and die-cutting products, Sizzix leverages Ellison's 36 years of proven manufacturing and technology heritage to empower creativity among its customer base with new and innovative products. Sizzix is a recognized global brand that can be found in over 100 countries and in major and specialty retailers. For more information on Sizzix and its line of craft-inspiring products, please visit http://www.Sizzix.com.
# # #