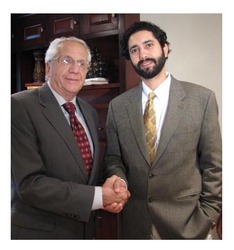 The impact of the Dr. Siegal's® COOKIE DIET™ on my own practice was profound. I created the cookie in 1975 and within a few years my practice had grown to twenty-four clinics in the United States and Latin America
Miami, FL (PRWEB) September 10, 2007
Renowned physician, author and weight loss expert Sanford Siegal, D.O., M.D., creator of the Dr. Siegal's® COOKIE DIET™ system and hunger-controlling meal replacement cookies, shakes and soup, announced today that he will attend the 57th Annual Obesity & Associated Conditions Symposium of the American Society of Bariatric Physicians at the Aladdin Hotel and Casino in Las Vegas September 26th-29th. ASBP is an international association of allied health care professionals with special interest and experience in the comprehensive treatment of overweight, obesity and related disorders.
"I receive several requests each week from physicians who want to use Dr. Siegal's® COOKIE DIET™ products to help their own patients lose weight," said Dr. Siegal. "The ASBP annual meeting is a great place to meet hundreds of my fellow doctors and discuss introducing the Dr. Siegal's® COOKIE DIET™ products into their practices."
Since he created his popular weight loss system and associated hunger-suppressing foods in 1975, Dr. Siegal has allowed about 200 other doctors to use them in their practices. Dr. Siegal estimates that more than a half million people have used his Dr. Siegal's® COOKIE DIET™ products as part of a medically-supervised weight loss program. More recently, due to the availability of the products online (http://www.CookieDietOnline.com), others have used them simply as a healthy snack food.
Dr. Siegal does not charge physicians who purchase his Dr. Siegal's® COOKIE DIET™ products for use in their practices any kind of franchise fee or royalty.
On Saturday, September 8th, Dr. Siegal was a guest at the grand opening of Lifestyle Weight Management Center in the Washington, DC, suburb of Tysons Corner, Virginia. Under the medical direction of prominent bariatric surgeon Hazem Elariny, M.D., Ph.D., Lifestyle Weight Management Center offers its patients a unique weight loss program that includes the kind of support system needed to make lifestyle changes that lead to permanent weight loss. Dr. Elariny and his medical team have incorporated Dr. Siegal's® COOKIE DIET™ products into their program.
"The impact of the Dr. Siegal's® COOKIE DIET™ on my own practice was profound. I created the cookie in 1975 and within a few years my practice had grown to twenty-four clinics in the United States and Latin America," added Dr. Siegal. "From day one, my patients have loved the program and have achieved their goals without the intolerable hunger that wrecks most diets."
Dr. Siegal, his books, and his Dr. Siegal's® COOKIE DIET™ are frequently profiled by national and local media. Last Friday, he was a guest on the popular XM Radio talk show "Broadminded". This week he'll appear on the Fox Morning Show in Washington, DC. Previously he has appeared on ABC's Good Morning America, Fox News Channel, and CNN, and in the pages of the New York Post, Toronto Globe and Mail, and Health magazine.
Dr. Siegal lives and practices in Miami. He is the medical director of Siegal Medical Group, a private medical practice that has been limited to the treatment of overweight patients since 1960.
# # #