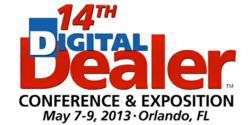 Orlando, FL (PRWEB) March 01, 2013
Digitalization has given those who walk into our lots and showrooms the tools and data to be educated, savvy consumers ahead of the curve. It is time for us to become educated and savvy dealers and managers: learn the latest pre-owned strategies to keep up with the competition and our clientele.
14th Digital Dealer Conference addresses the need for pre-owned focus with a variety of customizable training sessions, peer networking, and featuring two experts in the pre-owned market field:
Kraig Quisenbary, a strategic automotive industry professional with 30 years experience, recognized pre-owned sales as the key to dealership success, focusing on wholesaling and dealer-to-dealer operations. Among a multitude of highlights, Kraig:

Became one of the first adopters of online purchasing
Pioneered 100% internet-based management of logistics, purchasing and inventory
Kraig's session will focus on ways to find the largest retail ready inventory, saving thousands in auction fees. Kraig will cover how top performing dealers maximize their retail closing rates. and reveal strategies to navigate new no-fee wholesale channels and online trading networks.
Frank Alfano, a pre-owned manager and in-store trainer for the Progressive Basics Used Car Manager Training School, is a lifetime veteran of the automotive industry. Frank:
Has been training with Tim Deese and Progressive Basics since 2000
Travels globally to share his extensive automotive knowledge
Frank's session will cover the three things the Internet Department must do to increase turn-over and sell more units. Frank will reveal ways to work with the Internet Department to Market and Sell units while they are at their peak freshness and highest gross.
Kraig Quisenbary and Frank Alfano are only two out of a multitude of marketing visionaries, industry leaders and pre-owned experts who will be present to share their experience with attendees of DD14.
Benefit from experts in Digital Dealer Learning Labs, taking advantage of one-on-one coaching and advice for the unique situation of each dealership attendee. Stop by the Digital Dealer Innovation Hours: examine innovative new products and technologies such as the latest auction tools, CRM and DMS, and learn how they will benefit your dealership.
Digital Dealer® Conference & Exposition, May 7-9, at the Rosen Shingle Creek Hotel, in Orlando, FL. For more information about Kraig, Frank and other speakers, visit: http://www.DigitalDealerConference.com.