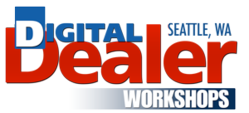 Seattle, WA (PRWEB) March 29, 2013
Over 150 dealers and managers converged on the DoubleTree by Hilton Hotel, Seattle Airport Wednesday March 20 to learn the latest digital strategies to engage, convert and retain more customers. The large numbers of influential dealership personnel were joined by industry professionals and sponsors contributing to total attendance of more than 220.
The unique one day learning and networking event produced by the Digital Dealer Conference & Exposition and the Washington State Auto Dealers Association delivered sixteen sessions and a keynote address by Google's Peter Leto. A group of select sponsors had intimate access to one of the largest gatherings of Washington State dealers and managers ever assembled for an educational conference. In addition to dealerships from Washington, from cities such as Spokane, Vancouver and Bellingham, along with everywhere in between, attendees visited from Oregon and California.
"We are committed to helping dealers and managers across North America sell and service more vehicles more profitably" stated Michael Roscoe, CEO of Dealer Communications. "By bringing high quality education directly to Seattle in a one day workshop, we were able to offer local dealerships a glimpse of the scope of our national events. We plan to host a series of regional events across the country so more automotive professionals can experience the benefits that Digital Dealer events deliver."
Dealership personnel raved about the cutting-edge education usually reserved for a national showcase, with the convenience of a local event. Sue Byers, dealer principal of Bob Byers Volvo, Seattle stated "Thank you for bringing the Digital Dealer Conference to Seattle! The local venue enabled us to bring most of our management team who learned a ton of great information and new strategies across departments. We are actively putting the ideas we learned into action."
The educational curriculum was segmented into four tracks: digital marketing and social media, data and analytics, reputation management and customer loyalty, sales and fixed operations. Within each track, four sessions were offered by workshop leaders with direct experience working in and with successful dealerships. The event concluded with a powerful keynote address by Google's Peter Leto outlining how dealerships can simplify their approach to digital marketing to harness the power of the Internet and generate more business.
"WSADA also is dedicated to helping its membership base be more successful" said WSADA executive vice president Vicki Giles Fabre. "We were pleased to offer such a quality educational opportunity right in Seattle, which made it possible for more of our members to attend. The Digital Dealer team made a great partner; they were able to help us craft the right content that offers solutions to many of the most pressing issues facing our members today."
Special thanks to DealerOn, PGIAuto.com, Digital Air Strike, Cobalt, ELEAD1ONE, AutoTrader.com, Kelley Blue Book, Edmunds.com, VinSolutions, DealerSocket, DealerTrack, MyPostwire.com and Motorwebs for their support in making the event possible.
The Digital Dealer Workshops program began in Houston, TX in January 2012. Future regionals will continue to bring a taste of the industry's ultimate digital strategy conference to select local markets across North America. For more information on the Digital Dealer Workshops Seattle visit Seattle.DigitalDealerWorkshops.com.