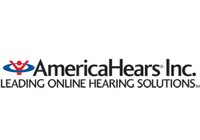 We look forward to updating the blog each week with new and exciting topics about hearing aids and the hearing aid industry
Philadelphia, PA (PRWEB) December 4, 2007
America Hears, the premier manufacturer and distributor of digital hearing aids over the Internet, is pleased to introduce its new audiology blog, which can be found at http://www.hearingprofessional.net. This informative medical blog features entries written by America Hears audiologists to answer common questions and concerns by users of hearing aids.
The hearing aids blog, which was created in September 2007, is updated on a weekly basis by one of the audiologists to respond to a pertinent issue regarding hearing aids. Issues covered so far have included the components of an audiogram, an overview of the anatomy of the ear, and a look at speech discrimination scores. In addition, the audiologists will explain in the blog how specific America Hears digital hearing aids work or can be adjusted for various situations.
"We look forward to updating the blog each week with new and exciting topics about hearing aids and the hearing aid industry," said America Hears audiologist Susan Homitz. Audiologist Kelly Malick added, "Each blog entry is carefully crafted to provide important information in straightforward language that all can understand." Judy Boersma, another America Hears audiologist, noted, "This medical blog is a helpful tool that we can use to answer the questions that we are hearing from our customers."
Visitors to the medical blog are invited to leave comments or questions regarding digital hearing aids for the audiologists that can be addressed in future updates. Topics for discussion are also welcomed.
About America Hears
America Hears is a 26-year-old, American-owned-and-operated digital hearing aid manufacturer located in Bristol, Pennsylvania. The company recently introduced its new FreedomAD line of digital hearing aids, which utilizes the latest generation of ADRO hearing aid technology. America Hears is a member of the Better Business Bureau and is an approved manufacturer of hearing aids by the United States Food & Drug Administration (FDA).
###