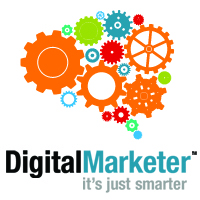 Information like this is available for instant daily access on the Digital Marketer blog.
Austin, TX (PRWEB) March 21, 2013
The newest blog post on DigitalMarketer.com comes from contributor Bryan Berghoef, who investigates a recent Business Insider piece that listed the 25 most innovative businesses in Washington, DC.
"Analyzing the list, I realized that the most common trait among these businesses had to do with food and drink. In fact, 15 of the 25 were either a restaurant or a bar," wrote Berghoef. "And what happens at restaurants and bars? People socialize. They get together. They connect. They dream. They share ideas."
The main takeaway from Berghoef's post includes business interaction beyond a website or point of sale. "The bottom line is this," the post said, "Whatever your market, product, business, or organizational focus, are you engaging the social scene around you? At the bar, around the table, over a pint? It's time, because increasingly, that's where life is happening."
Information like this is available for instant daily access on the Digital Marketer blog, where the best of the best online marketing gurus share their ideas on trends and news flowing through the Internet. It's part of Digital Marketer's continuing efforts to keep marketers across the globe up to date on what's affecting their business on every landscape.
Digital Marketer's blog is available to anyone, but becoming a member of DM Pro gains access to information-packed monthly digital newsletters from the brightest minds in the industry, as well as a collection of Special Reports on how to combine marketing with major Internet players like Apple, Amazon, Google, and YouTube. A DM Labs membership takes things a step further, with split test results, website reviews, and of course access to RAW Trainings that are available anytime from any online device after their live events.
Digital Marketer releases informational and educational materials to help businesses and entrepreneurs gain insight and information on the trends, data, and strategies that can take them to the top of their industry. Through their RAW Training courses, strategic plans, blogs, newsletters, site reviews, and Special Reports, Digital Marketer supercharges every single marketing campaign it touches. For more information, visit DigitalMarketer.com.