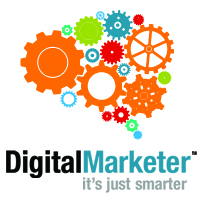 The new video is Digital Marketer's latest addition to its unique and engaging YouTube content.
Austin, TX (PRWEB) April 11, 2013
Digital Marketer's most recent video has been published by video strategist Joel Owens and covers the use of Google AdWords by online businesses. The entire process is explained by Owens, who takes viewers through the steps needed to get set up with an account.
Owens said that the tool "assists you in getting your product or your brand name out in front of as many people as possible… With Google AdWords, you can do that for a fraction of the cost that you can do it [by] paying a marketing company."
The new video is Digital Marketer's latest addition to its unique and engaging YouTube content, and viewers are encouraged to subscribe to the Digital Marketer YouTube Channel for news updates and marketing tips, and comment on videos to share their thoughts.
More information is available for instant access on the Digital Marketer blog, where the best of the best online marketing gurus share their ideas on trends and news flowing through the Internet. It's part of DM's continuing efforts to keep marketers across the globe up to date on what's affecting their business on every landscape.
Digital Marketer's blog is available to anyone, but becoming a member of Digital Marketer Pro gains access to information-packed monthly digital newsletters from the brightest minds in the industry, as well as a collection of Special Reports on how to combine marketing with major Internet players like Apple, Amazon, Google, and YouTube. A Digital Marketer Lab membership takes things a step further, with split test results, website reviews, and access to RAW Trainings that are available anytime from any online device after their live events.
Digital Marketer releases informational and educational materials to help businesses and entrepreneurs gain insight and information on the trends, data, and strategies that can take them to the top of their industry. Through their RAW Training courses, strategic plans, blogs, newsletters, site reviews, and Special Reports, Digital Marketer supercharges every single marketing campaign it touches. For more information, visit DigitalMarketer.com.