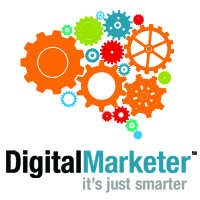 Digital Marketer supercharges every single marketing campaign it touches.
Austin, TX (PRWEB) May 03, 2013
The most recent Digital Marketer marketing tip video comes from editor Eric Pickhartz, who shares details on the newest feature involved in Facebook ads. The addition is called Facebook Partner Categories, and gives advertisers a wide range of possibilities when it comes to nailing their potential customer demographics.
In Digital Marketer's opinion, it's one of the biggest developments in ad capabilities ever rolled out in social media marketing.
"Facebook hooked up with these three marketing firms to provide data about user's online and offline activities," Pickhartz said in the video. "It's pretty crazy and it's going to allow you to really narrow down on the audience that you're aiming for with your Facebook ads."
The video takes viewers through the entire process, and explains the nuances involved in determining what categories to narrow in on, and how they can help produce better leads and eventual conversions.
The new video is Digital Marketer's latest addition to its unique and engaging YouTube content, and viewers are encouraged to subscribe to the Digital Marketer YouTube Channel for news updates and marketing tips, and comment on videos to share their thoughts.
More information is available for instant access on the Digital Marketer blog, where the best of the best online marketing gurus share their ideas on trends and news flowing through the Internet. It's part of DM's continuing efforts to keep marketers across the globe up to date on what's affecting their business on every landscape.
Digital Marketer releases informational and educational materials to help businesses and entrepreneurs gain insight and information on the trends, data, and strategies that can take them to the top of their industry. Through their RAW Training courses, strategic plans, blogs, newsletters, site reviews, and Special Reports, Digital Marketer supercharges every single marketing campaign it touches. For more information, visit DigitalMarketer.com.