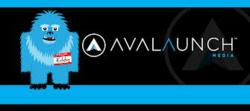 Because the 'Speaking on Business' program only targets businesses on the rise, we feel very honored to be highlighted amongst such an elite group
Salt Lake City, UT (PRWEB) March 08, 2013
Based in Utah Valley but servicing business of all sizes nationwide, Avalaunch Media is a digital marketing company that will be spotlighted on Zion Bank's popular 'Speaking on Business' radio program. The regular segment, narrated by Chris Redgrave, will air on radio stations across the state of Utah on Friday March 15th, 2013.
According to business2community.com, 92% of companies today are actively incorporating some level of social media into their marketing strategy. In response to this trend, Avalaunch Media has proudly developed a collection of online marketing services that has the company thriving.
Avalaunch Media specialtizes in search engine optimization, pay-per-click management, unique content development and all other avenues of social media platform management. It is this innovative approach to digital marketing that has caught the attention of Zions Bank and subsequently landed Avalaunch Media a coveted spot on this widely aired program.
"Because the 'Speaking on Business' program only targets businesses on the rise, we feel very honored to be highlighted amongst such an elite group," says David Mink, one of the co-founders of Avalaunch Media. "We're well aware of the high level of business standards that this program represents so we're excited to be recognized as a reflection of that."
The 'Speaking on Business' program airs most weekdays but the segment spotlighting Avalaunch Media will air on March 15th, 2013 on the following Utah radio stations, at the times listed below.
Broadcast Schedule
Wasatch Front - KSL 102.7 FM, 1160 AM (7:23 a.m., 11:47 a.m., 5:23 p.m.)
Logan - KVNU 610 AM (7:43 a.m., 5:28 p.m.)
Manti - KMTI 650 AM (8:15 a.m. and 5:25 p.m.)
Moab - KCYN 97.1 FM (7:40 a.m., 5:20 p.m.)
Monticello - KAAJ 103.9 FM (7:50 a.m., 5:10 p.m.)
Richfield - KSVC 980 AM (8:20 a.m., 5:22 p.m.)
Price - KOAL 750 AM (7:30 a.m., 5:18 p.m.)
St. George - KDXU 890 AM (7:25 a.m., 5:25 p.m.)
Vernal - KVEL 920 AM (7:45 a.m., 5:15 p.m.)
About Avalaunch Media
Avalaunch Media is a digital marketing company targeting small to mid-size businesses. Core services include: infographic design, linkbait articles, pay-per-click (PPC) management, reputation management, search engine optimization (SEO), and social media promotion. We are not your average fly-by-night SEO company. Our team consists of successful business owners and industry professionals with many years of experience.
You'll love your new online marketing firm. Find us at http://www.AvalaunchMedia.com