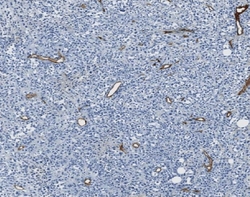 We believe that this new approach may provide alternative endpoints that better match functional analysis of neovascularization.
Flagstaff, AZ (PRWEB) March 1, 2011
Flagship Biosciences announced today a vessel proximity analysis algorithm, which can quantitatively define the spatial relationships of tumor cells and vessels on a whole-tissue level in either histology or radiology imaging. The patent pending technique is a departure from the standard industry approach of quantifying the vasculature based on an endothelial stain in histology sections or a radiology tracer in three dimensional imaging.
Microvessel density (MVD) has been the industry standard approach for several decades for vascular analysis in histology tissue samples. It normally consists of using an endothelial stain to identify the vessel walls, and more recently can incorporate other secondary stains for muscle cells that are associated with these vessels. Once the vascular structures are identified, a microvessel density measurement is determined using a range of related approaches, either involving individual vessels or a composite area measurement of the overall vasculature. The techniques are widespread in research applications in many pharmaceutical companies, but have seen limited application in common clinical practice.
The challenge in using microvessel density is the wide ranging variability of the assessment in real-life clinical samples. The vasculature can range from single well defined vessels to a vast network of interconnected structures, making reproducible quantitation difficult. In addition, neovascularization driven by tumor expansion is different and more irregular than normal vascular architecture, and this irregularity is not captured by current microvessel analysis approaches.
Flagship Biosciences takes a fundamental new approach. The starting point is the tumor tissue itself, and measures the percentage of tumor tissue that is within an empirically set distance from vessels. This distance can be determined using histology markers for oxygenation (or lack thereof). The results provide a relative measurement of the oxygenation of tissue, rather than a measurement of the number of vessels.
Flagship's pathologists and image analysis experts have participated in many different microvessel analysis projects. "The fundamental challenge in the current image analysis techniques that start with the vessels is the difficulty in reproducibly defining single vessels in a section of tissue," said Trevor Johnson, Director of Image Analysis at Flagship Biosciences. "This often means that in real-world practice one must revert to a simple area measurement of tumor vasculature, which does not capture the distribution or geometry of the tumor architecture."
The new technique depends on first discriminating tumor from adjacent normal and/or necrotic tissue using pattern recognition or new stain-assisted pattern recognition techniques like Feature Analysis of Consecutive Tissue Sections. The vessels are identified using techniques already common in the industry, and do not need to be individually segmented. The percentage of tissue within a given distance of these vessels is computed.
"We are working on studies with several pharmaceutical clients to determine the extent that this approach will better correlate with other measurements of a compound's efficacy," said Steven Potts, CEO of Flagship Biosciences. "In the rare case that the vasculature is evenly distributed in tissue, the analysis would perfectly correlate with microvessel density type measurement. However, we believe that this new approach may provide new endpoints that better match functional analysis of neovascularization – how well oxygenated is the tissue?"
The technology approach is equally applicable to both two-dimensional histology sections and three-dimensional radiology imaging.
Flagship Biosciences is a pathology CRO, that specializes in tissue-based companion diagnostics and digital pathology.
###