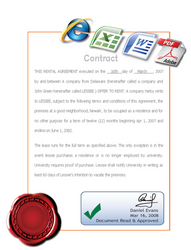 Quadralink's reputation for successful integrations and support, as well as its exclusivity with a world-renown document management system such as Laserfiche, provided ARX with an ideal opportunity for a partnership within the increasingly strong Southeast Asian market
San Francisco, CA (PRWEB) July 7, 2009
Quadralink, the exclusive distributor of Laserfiche products to Vietnam, Laos, and Cambodia, has integrated the CoSign digital signature solution into their Laserfiche document management offering, solidifying their products capacity to maintain a fully electronic workflow.
The addition of the CoSign digital signature solution to Quadralink's Laserfiche offering will allow Laserfiche users to replace handwritten signatures with legally-binding digital signatures for electronic documents, both inside and outside of the Laserfiche records-management and workflow environment. Laserfiche users now have access to technology that can sign, seal, and route documents for verification anywhere. This capacity allows for expediting business processes and reducing costs, while maintaining document integrity and complying with regulations. Moreover, the CoSign digital signature solution supports all major file formats including PDF®, Microsoft® Word, Excel®, Outlook®, TIFF, InfoPath® and many more.
"Quadralink is committed to bringing the best information and communication technology to Vietnam," said Daniel K. O'Leary, Vice President, Sales and Marketing, Quadralink. "ARX offers the best digital signature technology and is the ideal partner based on their functionality, price, and integration capabilities."
When used with good record-keeping practices, digital signatures ensure audit and regulatory compliance. CoSign is compliant with regulations worldwide, including the U.S. FDA 21 CFR Part 11, U.S. E-Sign and UETA acts, and the E.U. Directive for Electronic Signatures.
"Quadralink's reputation for successful integrations and support, as well as its exclusivity with a world-renown document management system such as Laserfiche, provided ARX with an ideal opportunity for a partnership within the increasingly strong Southeast Asian market," said Gadi Aharoni, CEO, ARX.
About Quadralink
Quadralink is headquartered in Canada. Quadralink was founded by senior experts in administration, IT, and finance to introduce some of the world's leading IT solutions to developing countries, including Vietnam. Quadralink has worked together with Laserfiche to develop a Vietnamese OCR solution, and has integrated it into Laserfiche's comprehensive solutions.
For more information please visit http://www.quadralink.com.
About CoSign Digital Signatures
CoSign makes it easy to digitally sign transactions, documents, and records by embedding the standard signature technology directly into mainstream business applications. CoSign produces a signature record for every signature it captures. This Portable Signature Format (CoSign PSF™) allows anyone to seamlessly verify and retain proof of identity, intent, and document integrity without costly, complicated, or proprietary software. CoSign keeps your business running smoothly by fully automating and quickly scaling processes at a low cost and with proper controls. Learn more at http://www.arx.com/products/cosign_moreinfo.php.
About The Digital Signature Company - ARX
ARX (Algorithmic Research) is a global provider of cost-efficient digital signature solutions for industries such as life sciences, healthcare, government, and engineering. ARX engineers and scientists have more than 20 years of experience in security and standard digital signature application. ARX helps businesses secure, streamline, and scale their business processes and transactions with the proper controls required by legislation, regulation, and industry best practice. Visit us at http://www.arx.com.
CoSign is a registered trademark and CoSign PSF is a trademark of Algorithmic Research, Ltd. All other trade names and trademarks are the property of their respective holders.
###