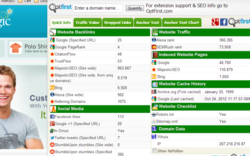 The new OptFirst platform is a maintenance tool that compares the linking, social activity and on-page optimization of a website. Says John Vincent Kriney, OptFirst President
Miami, Florida (PRWEB) April 13, 2013
Search Engine Optimization is complicated. Anything that can make the job of internet marketing firms easier comes as a great relief. It may take a while for internet marketing efforts to achieve a desired visibly. Once a website is ranking well maintaining web traffic and organic positions is harder than it may appear. Thankfully, Miami SEO firm OptFirst has created a new online marketing platform that will help monitor web traffic and organic positions.
"Achieving and maintaining solid Search Engine positions is crucial for today's companies. How this is done is the most common question every business owner speaks to OptFirst about," said John Vincent Kriney, founder and President at OptFirst, Inc. "Some people, especially those who do not know a lot about SEO, may think that once you have achieved a top spot on a search engine, you can already stop promoting your site. Of course this is not true, your organic positions need to be constantly promoted and reinforced. The two-fold goal of internet marketing is to make sure that a website achieves a dominant placement and then remains there. This is first done through tracking the vast and rapidly changing internet landscape. Second is monitoring website data and organic position movements. The digital marketing firm OptFirst has found an Effective way."
The new OptFirst platform is a maintenance tool that compares the linking, social activity and on-page optimization of a website. "By comparing these, a client will have an idea as to where their website excels and what needs further optimization." John Vincent Kriney also added that these three factors make the difference in showing up on the first page of Search Engines, and therefore must be given extra attention.
"For us here at OptFirst, we always make sure to not only keep abreast with the ever-changing rules of Search Engine Optimization, but also find creative ways (within published SE guidelines) to boost client's websites and maintain their online visibility. We can't say anything more about this new online marketing platform but in less than 60 days, we shall reveal what the rest of the maintenance tool will be and release the info to the public via extension and app marketplaces. "
Aside from the new online marketing platform, OptFirst has recently added new team members to their team. "We are a fast growing company and we welcome people with deep-seeded passion for technology and teamwork. We are always looking to hire new employees; people who are willing to share their talents in writing, internet marketing, programming, and web design. We value people who are eager to learn more about SEO and Pay per Click Marketing," Kriney continues.
"Right now, OptFirst have employees in over 5 countries. We are still looking for people who can join our team; people who can, hopefully, help us expand our new online marketing platform" finishes John Vincent.
About OptFirst:
OptFirst, Inc. is a Miami based internet marketing company that offers ethical and organic SEO services. By using more than 20 web marketing strategies, clients can be guaranteed to get maximum visibility online.