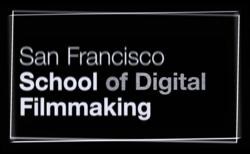 Giving our students the chance to work with professionals on a real movie set is a huge advantage for them
San Francisco, CA (PRWEB) March 08, 2013
San Francisco film training school San Francisco School of Digital Filmmaking (SFSDF) has produced some of the nation's most promising fresh-faced film industry professionals. The recently celebrated independent film Fruitvale was a Sundance winner for both the 2013 Grand Jury Prize as well as the Audience Award. Several SFSDF graduates had a significant role in the making of this award-winning film.
One such recent grad is Tyrone Hutton, class of 2012, who was enlisted as the assistant production office coordinator. He joined SFSDF's 15-Month Digital Filmmaking Program in 2011, working during the day and going to school part-time in the evening.
"It's amazing to be recognized for your hard work," says Hutton. "You put your heart into something, and to know that your peers enjoyed it and were appreciative. It's an amazing feeling".
Other SFSDF grads who worked on the heralded film are Robbie Gomez, who also worked in the production office, and David Yee, who worked on set in the art department.
SFSDF is the only school in the country that offers students in its' digital filmmaking program the unique opportunity to work with professionals on feature films shot in and around San Francisco. Fruitvale is the 9th feature film in the past seven years that SFSDF students and graduates have worked on as part of this program.
"Giving our students the chance to work with professionals on a real movie set is a huge advantage for them," SFSDF Founder and President, Jeremiah Birnbaum, explains. "They get incredibly practical experience, contacts in the industry that often lead to jobs and a credit on a feature film." Birnbaum adds, "I'm so proud of the students that worked on FRUITVALE. For their first feature film experience to be this successful is fantastic."
For more information about the San Francisco School of Digital Filmmaking and the flexible programs offered there, please visit http://www.sfdigifilm.com or call (415) 824-7000. SFSDF is located at 925 Mission Street San Francisco, California.
About the San Francisco School of Digital Filmmaking
The San Francisco School of Digital Filmmaking (SFSDF) offers film workshops and programs that teach students the art and craft of filmmaking. The school offers a unique, hands-on curriculum and small classes that encourage mentorship and nurture creativity. SFSDF faculty is comprised of accomplished directors, producers, writers, musicians, editors, actors, art directors and sound designers. Students learn using the latest technology and equipment in digital film.
SFSDF offers a number of exciting and challenging film workshops, many of which can be taken part-time. Their immersive 1-Year Digital Filmmaking Program is designed to prepare students to pursue a career in the film, TV and new media industries. Their 2-Week, 5-Week and 3-Month Filmmaking Workshops give students a valuable hands-on experience into the art and craft of moviemaking. Their new 6-Month Documentary Filmmaking Program trains students who are ready to delve into the world of non-fiction filmmaking. All of their film programs and workshops have a project-based curriculum that combines classroom study with hands-on filmmaking using professional equipment.