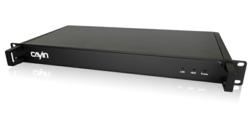 CMS-20 provides the most economic way for users to enjoy abundant benefits of central management.
TAIPEI, TAIWAN (PRWEB) March 27, 2013
CAYIN Technology unveils the entry-level content management server, CMS-20, to provide a complete line of digital signage servers for small to large self-hosted digital signage networks.
CAYIN releases the new entry-level digital signage server, CMS-20, to manage projects involving less than 20 media players. It not only helps administrators perform effective central management, but also broadcasts live streaming video to provide real-time entertainment for digital signage networks.
CAYIN CMS content management servers, bundled with hardware and software, are full-featured digital signage servers for efficient player management, content update, central scheduling, and live video streaming. With the embedded web-based user interface, users can manage the device directly from a web browser without installing any software in their computers.
CAYIN's digital signage solution is developed based on client-server architecture. Administrators can use a CMS-20 server to create a maximum of two-layer groups and manage all SMP digital signage players systematically. Playlists can be edited and scheduled on a weekly basis or as a one-time event. SMP players will playback synchronized content automatically based on the schedule assigned by the CMS server.
CMS-20 can also manage a maximum of 2 video signals per server and up to 64 inputs for the whole system. It can transmit streaming data to CAYIN's digital signage players by means of LAN broadcasting, multi-casting, or uni-casting, and broadcast live streaming videos, such as live shows, sport games, and TV news, over the digital signage network.
Sending emergency messages instantly to all screens is possible as well. Administrators can activate the alert mechanism and broadcast emergency messages to a particular group or to all groups. Emergency messages can be presented in many formats, such as texts, images, video, HTML, etc.
CMS-20 provides the most economic way for users to enjoy abundant benefits of central management. The server truly offers an optimum solution for users to manage a smaller-scale, self-hosted digital signage network. For medium and large scale projects, CAYIN also provides a series of advanced servers to meet the requirements.