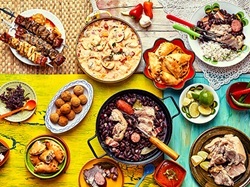 "The best way to experience a new culture is by partaking in the same activities locals perform every day - and what better way than literally enjoying the local flavors? Combined with a walking tour full of history, culture and color, traveler gains an intimate appreciation of the destination."
SEATTLE (PRWEB) September 13, 2018
Brazil is a vastly little-known hotspot for food and wine enthusiasts. Especially for those who like to travel and experience regional cuisine abroad. A trip to Brazil is a chance to become inspired by traditional Brazilian culinary as it represents the world coming together in a delicious blend of Portuguese, Japanese and African influence. Every region evokes a unique taste, texture and overall ensemble of readily available produce.
One way to get a taste of Brazil is on a guided food tour. SouthAmerica.travel, a travel company which arranges fully custom trips throughout South America, just launched the Ultimate Brazil Food & Wine Tour, combining four of their favorite Brazilian gourmet destinations into one delicious package. Dine on unique dishes which have captured international attention for their homegrown, yet exotic, ingredients and flavors. Learn how to utilize integral Brazilian elements in professionally led cooking classes. Then, quench your thirst with a glass of Brazilian wine.
SouthAmerica.travel C.E.O. Juergen Keller explains: "The best way to experience a new culture is by partaking in the same activities locals perform every day - and what better way than literally enjoying the local flavors? Combined with a walking tour full of history, culture and color, traveler gains an intimate appreciation of the destination."
The multi-day Brazil Food & Wine Tour invites travelers to partake in a multi-day exploration of the senses. Begin in the marvelous Rio de Janeiro, a port city beckoning travelers with its sprawling white-sand beaches, lush mountains, lively festivals, and friendly Cariocas. Enjoy breathtaking views from Sugarloaf Mountain and a romantic evening sampling some of the best Brazilian wine and cheese atop a spacious veranda in the hills of Santa Teresa.
Next, explore the bustling street markets, bars and restaurants which make up the interior of the city. Sample delicious street food including pão de queijo (Brazilian cheese bread), exotic Amazonian fruits, Brazilian chopp (draft beer), authentic caipirinhas together with a bit of meat: picanha (slices of beef), caixinha (drumstick-shaped chicken pastel) or bacalhau (bites of cod)! Throughout this food-city tour, visit some of the highlights of Rio, including the Carioca Aqueduct and the world-famous Escadaria Selarón steps, designed by the Chilean-born artist Jorge Selarón.
On the final day in Rio, find out why locals say "the best views of Rio are from the top!" as you board the historic cogwheel train to the top of Corcovado Mountain. Upon arrival, observe the enormity of the Christ the Redeemer statue, as well as views of Copacabana, Ipanema, Sugarloaf, Maracanã and the Tijuca forest. In the evening, learn a mixture of traditional Brazilian recipes, ingredients and techniques in one colorful Brazilian cooking class.
After Rio, visit Belo Horizonte, a city bristling with cozy restaurants and vibrant markets which showcase the best tastes of Minas Gerais. Follow a trusted local guide around the Mercado Central (Central Market), a massive, indoor market favored both by tourists and locals for its large ensemble of spices, aromas and flavors. After exploring the extensive market stalls, visit the Pope's Square, Liberdade Square, the Art Palace and the Pampulha region. Then, learn cooking techniques partial to Belo Horizonte in another cooking class held by a professional Brazilian chef.
Last, but certainly not least, transfer to São Paulo. Cover the main city highlights, including the Mercado Municipal. This "public market" is full of diverse aromas, colors and flavors. While here, dine like the locals and enjoy famous Minas cheese sandwiches or a codfish pastry, both well-known meals by locals in the market.
Your experience finishes with something special! Travel to São Roque, "Brazil's Wine Country". Visit two local wineries for private tours and tastings of white and red varieties of Brazilian wine. Reminisce about the journey, the path that brought you here. This is a glass you deserve. The memories will anchor to these aromas and wines. Reflect on your adventure as you sit and share the best laughs with your friends once again.
This new trip from SouthAmerica.travel can be easily combined with an adventuresome Rio de Janeiro & Amazon Rainforest Tour, which features the highlights of Rio de Janeiro and Manaus. Or, simply add on a stay at one of the best Brazil Amazon Lodges and immerse yourself in the world's largest tropical rainforest.
SouthAmerica.travel has been arranging Brazil Tours for over 18 years and the Ultimate Brazil Food & Wine tour gives food connoisseurs and amateurs alike a flavorful introduction to Brazil, combining three popular destinations with hidden gems and classes in the local cuisine. All of SouthAmerica.travel's tours can be customized any way you see fit. The local guides, private tours, superior accommodations and flexibility in travel planning make for an extraordinary travel experience.
---
About Us: SouthAmerica.travel is a tour operator specialized in custom South America tour planning for travelers worldwide from its offices in Seattle, Lima, Buenos Aires, Rio de Janeiro and Stuttgart. We are online and have local phone numbers in 88 countries. We offer 4-star & 5-star South America tours to Brazil, Peru, Argentina, Colombia, Ecuador, Bolivia, Chile, Paraguay, Uruguay, and more. Licensed and bonded in the U.S., SouthAmerica.travel has been sharing its love of South America travel since 1999 and is proud of its A+ rating by the Better Business Bureau and ASTA affiliation. SouthAmerica.travel - Our name is our passion™
Follow SouthAmerica.travel:
Facebook: https://www.facebook.com/SouthAmericaDotTravel
LinkedIn: https://www.linkedin.com/company/southamerica-travel
Instagram: https://www.instagram.com/southamericadottravel/?hl=en