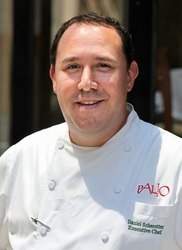 My way of cooking turkey ensures the whole turkey is cooked to perfection
San Francisco, CA (Vocus) November 19, 2010
Palio d'Asti, voted one of 2010's top restaurants in its class by SFGate.com readers, will serve a Thanksgiving feast equally appealing to families and gourmands. The San Francisco restaurant, located at 640 Sacramento Street off Kearney, will serve all day from 3pm to 8pm.
The casually sophisticated four-course menu will feature several entrées, seven sides served family style, and a trio of tempting seasonal pies for only $59 per person; with children under 10 paying their age. Prices exclude tax and gratuity. Convenient nearby parking is available at several garages and on the street.
House made specialties utilizing primarily organic and sustainable local, artisanal ingredients include: Braised Turkey with Bourbon-Gin Gravy; Roasted Black Cod with Almond-Lemon Brown Butter; Pumpkin Ravioli with Brussels Sprouts and Piave Cheese for vegetarians; and a comforting Osso Buco for Italiaphiles. Plus everyone ends the meal with seasonally flavored Amedi, single source, organic chocolates—a Palio exclusive.
As for the turkey, Chef Dan Scherotter, owner of Palio d'Asti, has his own style. He first separates the bird into parts, and then braises the legs, thighs, and wings with bourbon and gin until they are falling off the bone tender while he roasts the breasts separately in the pizza oven until they are crispy on the outside and tender and juicy on the inside.
"My way of cooking turkey ensures the whole turkey is cooked to perfection," explained Scherotter. "As for my bourbon-gin gravy, regulars will tell you it's 'fuggedaboutit!'"
For reservations or to see the complete Thanksgiving menu, visit Palio d'Asti's website at: http://www.paliodasti.com/events.php or call (415) 658-9295.
About Palio d'Asti
Celebrating 20 years of authentic, seasonably changing cuisine with a 'Slow Foods' approach, Palio D'Asti features classic and contemporary Italian regional cuisine combined with exceptional service at its ala carte lunch and prix fixe dinner. Palio d'Asti also hosts the best San Francisco happy hour, which features a $1 artisan pizza with the purchase of 2 adult beverages.
With several private rooms available for group dining, Palio d'Asti is also the ideal San Francisco party venue or corporate meeting location. Open Monday- Friday for lunch, Monday- Saturday for dinner.
###