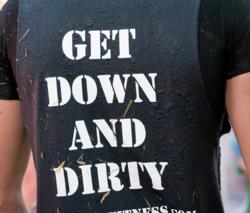 We pride ourselves on a 'come to complete and not to compete' environment.
Delray Beach, FL (PRWEB) November 09, 2012
DIRT Fitness, in continuing with its philosophy of highly-differentiated and scientifically-backed training methods, is opening a second location in Delray Beach, Florida. Met with much acclaim in Boca Raton, Florida, Kelli Musa – owner and proprietor of DIRT Fitness – has endeavored to expand beyond DIRT Fitness's humble beginnings and double down on her efforts to maximize potential, challenge individuals, and, in Musa's words, "Build bodies from the ground up."
In commemoration, Musa will lead the instruction of DIRT Fitness's "Gotta Tabata" class from DIRT Fitness's Delray Beach gym – located 310 NE 4th Street Delray Beach, FL 33444 – on Sunday, November 11, 2012 at 9:30 AM. Featuring six functional exercises performed in each of eight rounds, Gotta Tabata works the body to failure through intense interval training that quickly transitions between 20-second bursts of exercise and 10-second rest periods for a grueling three minute forty seconds per round
"We train in a high intensity environment pushing clients to their personal best," Musa says. "We pride ourselves on a 'come to complete and not to compete' environment."
Participants of DIRT Fitness Delray Beach's Gotta Tabata class on November 11 will be eligible to sign up for one month of unlimited DIRT Fitness access at an introductory rate of $99.
DIRT Fitness Delray Beach will build upon the DIRT Fitness tradition so embraced by the South Florida fitness community. And, by promising a 700-calorie burn in only 40 minutes, DIRT Fitness intends to attract crowds similar to those at its Boca Raton location. An acronym for Design Integrated Resistance Training, DIRT Fitness, with its strict focus on reinforcing the activities of daily life (ADLs) through body-weight exercises along multiple planes of movement, provides an intense workout regimen intended to both ready the body for the rigors of daily life by strengthening core muscles and transcend the monotony of programs that do little to promote true fitness consciousness.
"I don't believe that exercise should stand alone," says Musa, "and any program that only focuses on getting you 'in and out' of the gym is not productive."
Musa – an American College of Sports Medicine Affiliate, National Academy of Sports Medicine Certified Group Fitness Instructor, and American Fitness Association Certified Olympic Weightlifter – has long exhibited a passion toward fitness. A native of Deal, New Jersey, Musa embraced the challenges inherent in physical fitness from a very early age through gymnastics and various other sports.
A constant source of nostalgia, Deal, New Jersey has of late been to Musa a cause of great worry and concern.
Hurricane Sandy, having recently targeted the northeastern United States, left in its wake a great deal of destruction as victims and their families were left without power and an adequate supply of even the most basic human necessities. In response, Musa and DIRT Fitness will donate the proceeds of DIRT Fitness's commemorative Gotta Tabata class to the American Red Cross and its Hurricane Sandy relief efforts. Participants will be encouraged to donate a minimum of $20 toward relief efforts, though larger contributions will be accepted.
About DIRT Fitness
Located in Boca Raton, Florida and now in Delray Beach, Florida, DIRT Fitness offers to clients an array of fitness classes that incorporate high-intensity body-weight exercises along multiple planes of movement. DIRT Fitness further provides access to gym privileges and on-site certified trainers. DIRT Fitness, through its intense workout routines and its nurturing of South Florida's fitness community, seeks to espouse the virtue of physical fitness toward strong and healthy minds and bodies. For additional information about DIRT Fitness, its exercise classes, and owner/trainer Kelli Musa, please visit http://www.dirtfitness.com/ or call (561) 447-0505 to speak with a trainer.