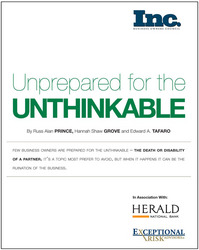 While death is a certainty, the likelihood of disability feels remote. The reality is that during the working years, the risk of disability is far greater than the risk of death.
Morristown, NJ (PRWEB) November 5, 2009
Exceptional Risk Advisors, in conjunction with Inc. Business Owners Council, announced today the availability of a provocative whitepaper entitled "Unprepared for the Unthinkable", a study on the financial preparedness of business owners in the event of a death or disability of a business partner.
Written by Exceptional Risk Advisors' CEO Ted Tafaro, along with Russ Alan Prince and Hannah Shaw Grove, "Unprepared for the Unthinkable" details research conducted on over 1,400 business owners on the topic of business emergency planning. The study concluded that only 40% of business owners with equity partners are financially prepared for a death of a partner, and less than 15% are prepared in the event a partner becomes disabled.
"With the intent of our research designed to raise awareness, we coupled the release of our research with an updated disability product capable of meeting the disability insurance funding demands of highly successful business owners," said Mr. Tafaro.
As a result of this research, Exceptional Risk Advisors launched Equity Protect 365, a Disability Buy/Sell product with limits up to $100,000,000 per insured. Equity Protect 365 delivers sophisticated insurance advisors, consultants, business succession planners, and their clients the tools capable of fully funding Buy/Sell Agreements for some of the largest and most profitable privately held ventures.
Exceptional Risk Advisors, a Lloyd's of London Coverholder, specializes in developing innovative insurance programs for sophisticated insurance advisors who work with business owners, corporate executives, entertainers, athletes, medical professionals, and attorneys.
Inc. Business Owners Council is Inc. magazine's membership organization for top entrepreneurs and family business owners. The Council brings thought leaders together with Council members to explore best practices and develop insight that help members make smarter decisions.
For a free copy of "Unprepared for the Unthinkable", please contact:
Joseph Jantas
Marketing and Public Relations Advisor
Exceptional Risk Advisors, LLC
Direct: 201.252.4719
###