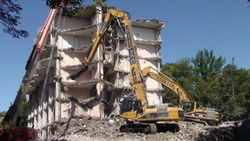 Three R's – Reduce, Re-use and Recycle, the company's GREEN philosophy and market strategy.
(PRWEB) January 11, 2010
Restoration Environmental Contractors-REC Demolition, a leading Canadian company in the areas of asbestos removal, demolition and disaster recovery, announces its 20th anniversary of being green. Established in 1989, the company has completed over 9,000 environmental restoration and demolition projects throughout Canada specializing in demolition, asbestos removal, lead abatement and industrial plant cleaning, plant decommissioning & closures, site remediation, disaster recovery and emergency response in the industrial, commercial, governmental and institutional sectors.
Restoration Environmental REC Demolition has successfully completed two green LEED projects. REC has exceeded 94.7%, LEED certification at the Regent Park, the Toronto Revitalization TCHC, environmental remediation and demolition project, and achieved over 75% LEED certification at the Queen's University, Jock Harty Demolition project in Kingston, Ontario. REC recently has safely completed the asbestos removal, demolition and remediation at the seven storey Historic Guild Inn project in Toronto, by using their Caterpillar Demolition Excavator fleet with the addition of a new CAT 330D UHD – Ultra High Reach Demolition Excavator and new CAT shear.
Restoration Environmental prides themselves on their outstanding safety record, their commitment to environmental stewardship, the high level of productivity of their skilled unionized workforce and the Three R's – Reduce, Re-use and Recycle, the company's green philosophy and market strategy.
Restoration Environmental's senior project management and site supervisory team has accumulated more than one million hour of on-site contracting experience. They possess years of on-site experience whether they are large or small projects, from emergency service response calls, or small maintenance calls, or multi-million dollar demolition, disaster recovery , and environmental remediation projects. REC believes the process should be simple, while at the same time creating options that offer sound environmental solutions in plant decommissioning, site decontamination, soil remediation and demolition.
The company's commitment to meet the needs of their clients with experienced, highly skilled unionized workers, well-planned project planning and an assurance to quality means that Restoration Environmental can help with a disaster recovery emergency response plan, plant decommissioning or closure, an asbestos removal, an environmental remediation, demolition or historic restoration project.
Restoration Environmental Contractors - REC Demolition - REC Disaster Recovery services include:

Environmental Abatement and Soil Remediation Contractors
Demolition; Deconstruction, Asset Recovery, Equipment Dismantling
Hazardous Materials Removal; Asbestos removal, Mold, PCBs, Lead
Plant Closures: Industrial Plant Decommissioning, Contaminated Site Remediation
Interior Plant Cleaning and removal of Heavy Metals
Disaster Recovery Fire, Sewage Backup, Flood, Water, Wind Damage Restoration
Emergency Response Service by experienced bonded secure, Police Cleared Staff.
Restoration Environmental REC Demolition REC Disaster Recovery is a turnkey, full-service, emergency response contractor and specialty contractor, a recognized leader in the environmental, demolition, restoration and construction industry. Their exceptional reputation, aggressive health and safety program and quality client services make them one of Canada's leading specialty contractors.
For more information on all REC's services, including asbestos removal, disaster recovery and demolition, Call 1-800-894-4924 Toll-free in Canada/USA or please visit our Websites: http://www.recdemolition.com , http://www.environmentalhazards.com, http://www.recdisaster.com or http://www.soilremediation.com.
# # #