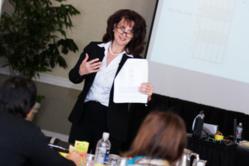 These tools are saving trainer's time while accelerating results.
San Diego, CA (PRWEB) March 06, 2013
DISCcert will be offering additional, practical DISC Train the Trainer Packets, at the April 25 & 26th DISC Certification.
One Tool is the DISC Coaching Packet. Its purpose is for one-on-one conversations, prior to a DISC training session. It includes:
►A proven DISC coaching outline
►Detailed guidelines for interpreting DISC graphs
►DISC Graph comparison worksheets
Tool #2 is the DISC Training Packet. This is to be used when a DISC training program needs to be streamlined. This includes:
►Results oriented lesson plan
►Most popular DISC learning activities
►Action Plan with user-friendly instructions
The third tool, is the DISC Value-Added Packet. Here, strategies are offered for reinforcing DISC in your organization. Included are:
►A manager's DISC toolkit
►Follow-up DISC lesson plan
►Sample of DISC Team Tips
"Graduates are having increased success with these tools being incorporated into their best training practices," says Miss Burn. "These tools are saving trainer's time while accelerating results."
http://www.disccert.com/program-samples/
This DISC certification program is a highly interactive two-day workshop, where attendees quickly learn how to use the extremely practical DISC tools, so they can gain the essential confidence in delivering DISC. This DISC train the trainer program is designed for the busy trainer and HR professional, who wants to use DISC, but does not have the time to develop DISC PPTs or DISC learning activities or DISC handouts. Bonnie Burn makes it easy to be immensely successful when returning to work from the DISC train the trainer seminar. In fact, a common question she gets from trainers and HR professionals after graduating is, "How do I handle all the DISC training my people want?" Now that's DISC training success!
About Bonnie Burn
Bonnie Burn, author of Assessment A to Z; Jossey-Bass Publishing, and is a 30 year master corporate trainer. Her expertise for years as a corporate trainer in DISC and professional DISC expert, led her to design the most comprehensive and up-to-date DISC Certification train the trainer available. Through her company, DISCcert, HR training professionals and business trainers can easily gain confidence in knowing how to successfully train DISC throughout their entire organization. Miss Burn is committed to insure all HR professionals and DISC trainers are extremely successful with their DISC training programs long term.
DISCcert
Bonnie Burn
Tel. +1 855.459.6648 (Toll Free)
Fax +1 858.461.6142
http://www.DISCcert.com