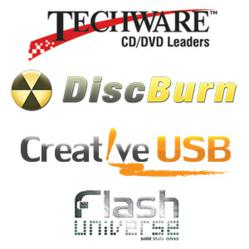 We look forward to the opportunity to work with new customers.
Minneapolis, MN (PRWEB) May 14, 2013
Techware Distribution, Inc. is excited to announce the asset acquisition of Discburn, Creative USB and Flash Universe from Cool International, LLC. Discburn's DVD duplication and USB/flash drive operations will move into Techware's 10,000 square foot facility in Bloomington, MN. Techware is not responsible for any debt or liability prior to May 3rd, 2013.
"Our intent is to make this transition seemless to the loyal Discburn / Cool International customer base while improving efficiencies in production, logistics and customer support," said Kevin Gabrik, President of Techware Distribution. "We look forward to the opportunity to work with new customers as well as offering ancillary products and services like video editing, tape to DVD transfer, website design, disc duplicator / printer rental and repair, tape drive and library repair to those new customers."
CD Printing, DVD, Blu-ray, and USB Flash media is still an important way for companies and individuals to sell, share, store and promote important content like software, product manuals & schematics, marketing & sales data, patient information, HR documents, music, movies, videos, training materials, exercise, motivational and self-help video content.
About Techware
Minneapolis, Minn. based Techware Distribution, Inc is a leading supplier of disc duplication, replication, printing, USB/Flash drive duplication, and custom packaging services. Techware also provides professional website development, CD / DVD printer and duplicator repair, new and used duplicator and printer equipment sales and rentals. Manufacturers include Philips, Sony, Taiyo Yuden/JVC, Mitsubishi, Verbatim, Rimage, Microboards Technology, and Primera Technology.
About Discburn
Roseville, Minnesota based DiscBurn, has been manufacturing USB sticks, flash drives, SD and micro SD cards, compact flash, CDs, DVDs, and Blu-ray discs successfully for over 13 years. Specialties include multi-disc sets, custom shaped USB drives, encrypted flash memory, DVD copy protection and special binary level SD card duplication and color labeling.
To learn more about the services provided or schedule an interview contact Ryan Libson at 612-782-8200, email ryan(at)discburn(dot)com.