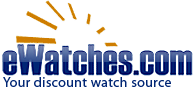 What could be more chic than the addition of a fabulous gold watch? Every watch aficionado and fashion-forward dresser should have one which is why we have discounted our entire inventory of gold watches.
Hollywood, Florida (PRWEB) June 13, 2012
Today, leading online retailer of discount designer watches, eWatches, announced they will treat their customers to a massive sale on all gold timepieces. Shoppers can expect to find an extensive collection of gold watches from a range of designers such as the popular Seiko, Lucien Piccard, and the luxurious Jaques Lemans. All gold watches showcased on the site will hold a price tag that boast savings of up to 85% off MSRP to make room for new gold arrivals.
For the next few weeks watch lovers everywhere can log on and find gold timepieces within their budget for eWatches carries all the popular gold watches shoppers seek. Customers can choose from a fantastic collection for men as well as women, along with a unisex collection for those couples who love to share. Gold watches have been—and still are—a tasteful status symbol. Their simplicity, elegance and class combined speak volumes to avid watch collectors.
eWatches has been providing quality discount designer watches to the nation since 2003. Their extensive collection includes famous names like the bold and beautiful Bulova, world-renowned Swiss Legend and new Hollywood favorite Glam Rock. Shoppers can log on daily to find the best deals on designer and luxury timepieces as eWatches is guaranteed to have the lowest prices on the web with reductions up to 95% off MSRP on all discount designer watches they carry. What's more, eWatches boasts a price-match guarantee, which assures customers they are receiving the best deal on the web; free ground shipping also helps to keep that price tag low.
The eWatches Gold Watch sales event begins Friday June 1st at 10am. Shoppers can log on from now until the beginning of summer and choose from some of the best names in the watch industry at prices that will be seriously slashed as low as 85% off MSRP.
About eWatches
eWatches.com is an award-winning website that has been selling watches to tens of thousands of satisfied customers since 2003. In both 2007 and 2008, Inc. Magazine selected eWatches.com as one of America's 500 Fastest Growing Companies in its annual Inc. 500 list.
eWatches gives customers a superior shopping experience with:

Free Shipping on all domestic orders
100% Satisfaction Guarantee
Low Price Guarantee
30 Day Money Back Guarantee
To get the 411 follow eWatches on Facebook and Twitter at 'ewatchescom'.