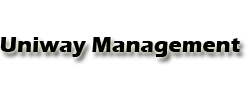 Forest Park, GA (PRWEB) April 16, 2013
In a continuing effort to better serve its membership base, Uniway has contracted Initial Seven Designs in Augusta, GA to redesign their exclusive logo. The newly designed image will be used on membership cards as well as future Uniway promotions and marketing. Uniway's new logo is the first of multiple new marketing changes launching within the company this year. This is a part of Uniway's continuous dedication to give their members the best experience in shopping for home furnishings and home improvement projects at factory direct prices.
Along with the redesigned logo, Uniway is also now participating in innovative social media advances. Customers can "like" their Facebook page at http://www.facebook.com/uniwaydesign to stay up to date on new merchandise and member-oriented specials. Additionally, Uniway continues to construct two new websites, one of which will be used as a source for information on the benefits of Uniway memberships. The other will be designed for current members offering an easier online shopping experience.
Uniway has continuously been in business for 41 years having started in Atlanta, GA in 1972. Since then, Uniway has spread across the southeast with licensees in Columbia, SC and Macon, GA. The new logo will be designed with all of the Uniway franchises in mind as the rebranding will be company-wide. The new corporate website will also serve as a portal to all Uniway locations. This will help customers find the location and website that is most convenient for them to utilize their Uniway membership.
The logo rebranding will launch in April 2013, along with the first of the new Uniway websites. For more information on Uniway and how a Uniway membership can help individuals and families save money on home furnishings, please check out their current website at http://www.uniwaydesign.com.
The new Uniway Logo can be found here: http://srehnlund.wix.com/initial7designs#!untitled/zoom/clx4/image14mi.
About Uniway:
Since its inception, the Uniway system has changed the way consumers shop for home and office furnishings. Uniway eliminates mark-up without sacrificing customer satisfaction. Customers purchase Home Accessories Forest Park, large and small appliances, discount furniture, and more directly from manufacturers at prices far below retail and even below wholesalers. All house furnishings, office furnishings, and appliances are of the highest quality with full factory warranties.