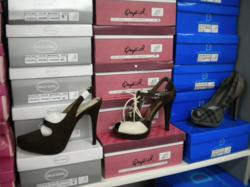 I have been in retail since I was 16 years old. I know all about fashion and prices
San Francisco, CA (Vocus/PRWEB) January 14, 2011
A 24-year old San Francisco Bay Area native, Alicia Chin, has opened a huge discount women's shoe store in the Mission District in San Francisco. The store features well-made, comfortable shoes for only $11.99 and boots from $12.99 to $22.99.
Wholesale Fashion Shoes endeavors to make fashion and comfort affordable. Chin believes that women shouldn't have to pay hundreds of dollars to stay in style.
"I have been in retail since I was 16 years old. I know all about fashion and prices," said Alicia Chin, owner of Wholesale Fashion Shoes. "I used to invest $200 on a pair of heals. Then one day I stumbled upon a reliable, low-priced, high quality supplier, so I decided to open my own shop."
Wholesale Fashion Shoes carries the latest fashionable footwear, including casual shoes, business shoes, and boots. They also carry inexpensive, high-quality purses and handbags.
For additional information, contact Wholesale Fashion Shoes by phone at (415) 675-1165 or visit their store located at 2415 Mission Street (at 20th Street) in San Francisco.
About Wholesale Fashion Shoes
Wholesale Fashion Shoes is a San Francisco discount shoes store that specializes in selling fashionable shoes and purses at discounted prices.
###